LAPP AUSTRALIA LAUNCH IS VOTE OF CONFIDENCE FOR LOCAL INDUSTRY
31-01-2018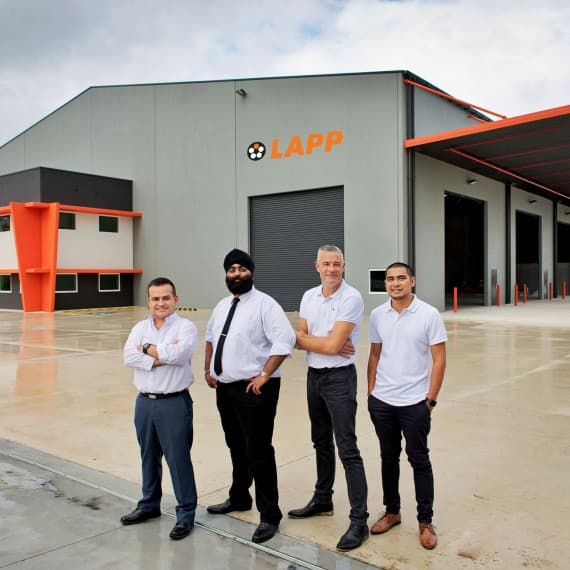 The new Lapp Australia team: Rod Calderon, Marketing and Office Manager; Indy Saggu, Customer Service Executive; Simon Pullinger, General Manager; and Michael De Leon, Warehouse Supervisor
One of the world's leading providers of branded cable and connector systems and integrated electrical and automation engineering solutions, Lapp, has set up a fully fledged subsidiary in Australia.
Lapp Australia – headquartered in new 3100m2 premises at Eastern Creek, Sydney – will meet demand nationally for technologies used in future-focused areas of industry, such as automation, robotics, energy management, data distribution and intelligent manufacturing, buildings, infrastructure and process engineering.
Lapp Australia General Manager Simon Pullinger says the new facility – which opens on 1st February 2018 – will bring new levels of service and choice to the Australian market, offering strong inventory of more than 1000 product lines onshore as well as direct access to more than 40,000 standard items from Lapp's global ranges.
"We are offering a one-stop shop for highly integrated, efficient and reliable systems which comply with the leading Australian, European and American compliance and quality standards, which are among the most demanding in the world. In addition to major Lapp brands of product – such as Olflex, Unitronic, Hitronic, Skintop, Silvin, Epic, Fleximark, and Etherline – Lapp Australia will focus strongly on world-class total solutions incorporating highly compatible components from the one source. This integrated approach will save customers time and money when assembling optimum solutions to their particular needs, while ensuring proven reliability in service," says Pullinger.
"With Lapp's 18 manufacturing locations on four continents and our industry partnerships, Lapp Australia will deliver outstanding access to internationally respected technology and innovation," adds Pullinger.
The family-owned Lapp organisation is renowned globally for its levels of quality, innovation and for its commitment to ethical values and service, qualities which it will bring to key Australian markets, including: manufacturing and plant engineering, electrical engineering and energy systems, machine building and machine tools, food and beverage, automotive, rail and mobility systems, intelligent buildings and infrastructure, and the resources industry.
Lapp Australia will work in close co-operation with its established key local Lapp distribution partner in Australia, Treotham Automation, which brings market-leading local expertise to its specialised markets. Lapp Australia will also extend its strong association with ECS New Zealand, a family-owned business, like Lapp, which has been a Lapp distributor for more than 30 years.
ECS Investments is a 50 per cent shareholder in the new Lapp Australia business, with the other 50 per cent owned by Lapp Holding Asia. The existing online Lapp Express website, meanwhile, will continue to expand in both countries, complementing the new strengths delivered by Lapp Australia.
Pullinger highlights Lapp's investment in a new full subsidiary in Australia as a strong vote of confidence in local industry as it increasingly moves into the global industrial automation market, which is forecast to grow to an annual worth of US $350 billion (AU $460 billion) by 2024.
"Lapp has delivered its resources, expertise and German top-quality standards to Australia at a time in the country's industrial development when such support is most needed to prepare diverse industries for a future in which they will use technology to compete cost-efficiently.
"Lapp's integrated approach to high technology solutions is also highly appropriate to world class Australian customers seeking the assurance of top quality products and systems that meet global compliance standards and are fully traceable back to the point of manufacture."
Lapp's commitments to the markets it enters are always in-depth, long-term and backed by an uncompromising customer focus and dedication to client service. These values of Lapp globally have remained constant since its establishment by Oskar Lapp in 1959 and through its evolution into a global family of companies bound together with the same strong principles.
Pullinger says the new Eastern Creek facility provides a strong base for engineering, technical and product support staff, operating in a technology and distribution environment modelled on Lapp's global facilities supplying more than 100 countries worldwide.
These facilities provide fully tailored solutions, service and product backup that are easily accessible to engineers, designers and specifiers.
Lapp Australia's locally available stock, compatible products and systems and quick order turnaround times are designed to streamline the specifier's job and to deliver optimum on-time results with outstanding ongoing reliability.
Lapp Australia
1800 931 559
lappaustralia.com.au