Published 20-05-2021
| Article appears in June 2021 Issue
LAPP's EPIC connectors up with the stars in new screen role
Large helium-filled balloons are used by filmmakers to provide even lighting for night scenes
Self-illuminating balloons have long been used by filmmakers for overhead lighting in night scenes. Unsurprisingly the critical criterion for these balloons is being low in weight.
That's where LAPP EPIC connectors are playing a starring role. The EPIC connectors have earned the trust of blberlin, a leading German supplier of the illuminating balloons, for their secure lightweight connection.
The blberlin example proves the utility of LAPP EPIC connectors when "every gram counts", said LAPP Australia General Manager Mr Simon Pullinger.
"This impressive application shows the versatility of LAPP's product range," Mr Pullinger said. "EPIC's lightweight design has a significant advantage.
"The lightweight connectors are ideal for industrial applications and challenges where weight matters. LAPP EPIC power cable connectors are regularly used in plant engineering applications, servo drives and servo assemblies, but are broadly applicable to any application requiring a high quality, lightweight and compact solution."
Founder of blberlin, Fabian Friedrich, launched the company in 2001, after seeing the self-illuminating balloons used in France. After initially using imported equipment, he started creating his own balloons from 2006.
Weight was always the critical constraint. Mr Friedrich's electrician drew his attention to LAPP.
"We needed the smallest possible lightweight connector that allows high current loads and can fly as part of the balloon," Mr Friedrich said.
"My electrician was familiar with LAPP. The advice from the local application engineer at LAPP was uncomplicated and we quickly found what we were looking for," he said.
"The EPIC Power LS1 industrial connector was chosen, and it is exceptionally robust against impacts and environmental influences."
Since then, Mr Friedrich has remained a loyal fan of LAPP's connection solutions. "The quality of the products and the service are great."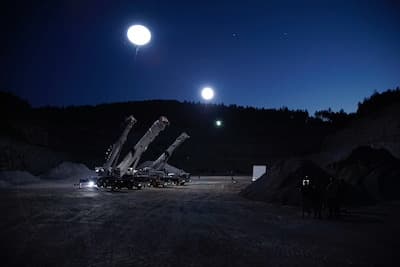 The balloons are made with a helium-tight and translucent special coating. Within each balloon is an electrical unit containing the illuminant. Everything is hermitically sealed with a plastic plate at base. This is where the EPIC Power LS1 enters stage.
The ÖLFLEX ROBUST 210 power and control cables, which transmit 220 volts or even high-voltage power at 380 volts, play a critical supporting role to ensure a reliable downwards connection.
The balloons are tailored to the specific requirements of the set. Sometimes the lighting balloons have to rise up to 80 metres. Precise calculations are essential.
"For us, every gram counts," Mr Friedrich said.
Today blberlin has about 70 versions of the balloon and about the same number of different control units, with cables and connectors that can be installed in the balloons virtually "plug and play". Many different potential combinations are available, so a solution suited to the specific requirement is usually ready to hand.
Mr Friedrich considers a location at Lake Turkana in Kenya to be the site of his most interesting work. The movie, which was made a few years ago, depicts child soldiers and took about two and a half months to film.
The filming required a balloon to float 80 metres above the edge of the lake. The company custom designed a helium balloon with a diameter of 5.5 metres and an output of 42,000 watts.
"We developed our own prototype for the job and shipped it to Nairobi. We only had time to test it once, but thankfully everything worked," Mr Friedrich said.
Mr Friedrich only rarely encounters film stars. When he does, it's unintentional. On the Valkyrie film set in Berlin, he happened to stand next to Tom Cruise – but had no idea who it was. "My wife told me about it later on," Mr Friedrich said with a smile.
Although business contracted to almost nothing early in the pandemic, it rebounded strongly and is now back at full steam.
The company has big plans. "In five years, we want to be the market leader for film balloons in Germany," Mr Friedrich said.
One of the exciting projects at the company is the development of LED balloons, which require connectors that are even more compact. And blberlin will once again be looking to LAPP.
"We will be developing a tailored solution for them," said Mr Joachim Strobel, Product Manager for EPIC connectors at LAPP.
EPIC is the registered brand name of LAPP's Environmental Protected Industrial Connectors. EPIC connectors are reliable for industrial applications, for example in machine construction, control cabinets and outdoors. The range includes circular connectors for motion control and rectangular connectors with robust connector housings. They facilitate easy and safe connection and disconnection of cables. International certifications allow them to be used all over the world.