Lanfranchi's success with compact empty bottle unscrambler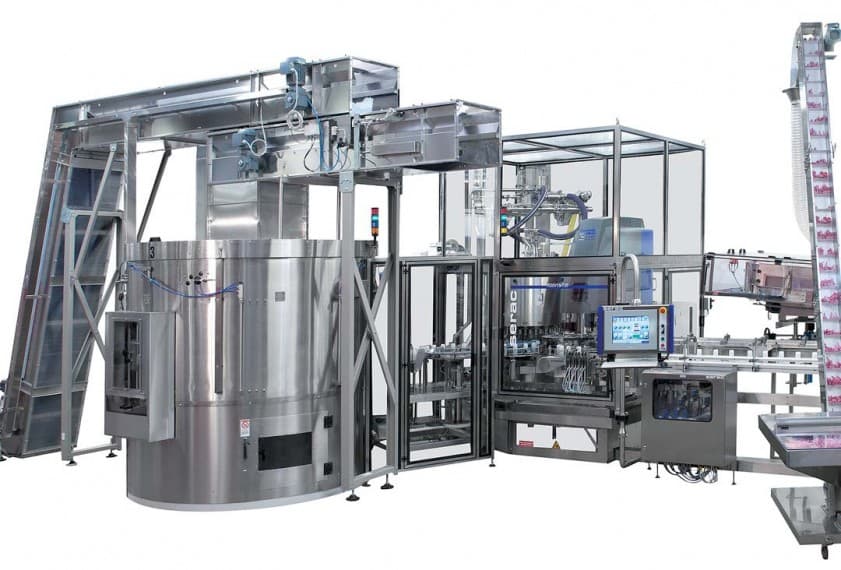 Lanfranchi of Italy, released a new STAR-BLOCK empty plastic bottle unscrambler solution in October 2012 and have been amazed at their success.
Lanfranchi has sold more than 30 units worldwide which has led to the development of a new 800m² assembly plant that will be used exclusively for the production of these machines.
The STAR-BLOCK solution allows the connection of any model of Lanfranchi unscrambler with any other downstream machine such as air rinsers, fillers, neck trimmers, leak tester and labelling machines via an aspirated star wheel with variable steps, which guarantees the maximum reliability during bottle transfer.
The advantages of the STAR-BLOCK solution include:
Reduced footprint
Reduction of electrical consumption
Reduction of change over time
Increased efficiency
Dairy Crest, a leading UK dairy product manufacturer installed a STAR-BLOCK bottle unscrambler / air rinser recently. The Lanfranchi solution was chosen as it met Crest's factory space restrictions, was to easy to operate with a fast changeover for their four bottle formats and included a motion lane device that kept the twin bottle filler in-feed system fully primed with no gaps. Lanfranchi will install a second machine for Crest later this year.
The system can also be used to eliminate pucks that are used to convey unstable irregular shaped empty bottles. By putting the STAR-BLOCK in block with the filler the pucks and associated conveyors are eliminated.
LANFRANCHI is represented in Oceania by HBM Packaging Technologies.