Krauss Maffei install their largest Injection Moulding Machine
10-02-2015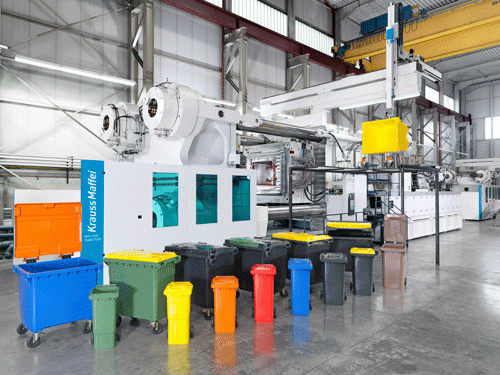 Krauss Maffei of Munich Germany, have recently installed their largest Injection Moulding machine to date, for Weber GmbH & Co.
The MX 5500 - 75000/75000 machine with a 5,500 tonne clamping force will produce various large volume waste containers with volumes up to 1100 litres for the global market.
The scope of the delivery also included a MX4500 tonne clamp machine with both machines equipped with LRX linear robots.
The Krauss Maffei machine was chosen as it could handle the larger moulds from Weber of up 150 tons weight together with the demanding high shot sizes and long flow paths.
The customer was impressed with the solid design of the machine bed and the mold fixing platens as well as the lengthened and widened sliding shoes.
The larger MX series moulders have hydro-mechanical twin-platen clamping units and are compact in design, fast in production and require very low maintenance.
The clamp locking system is designed for short cycles with precise positioning and the injection unit scores points with its high melt quality and superb shot weight consistency.
Krauss Maffei is represented in Oceania by HBM Plastics Technologies.