Published 25-02-2021
| Article appears in February 2021 Issue
Konecranes upgrades lead the way to new safety and efficiency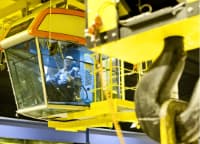 Nearly all industries depend on electric overhead travelling cranes (EOTs) for their heavyweight maintenance, manufacturing and process needs.
With this resurgence in demand for EOT cranes, there is a renewed focus on achieving the highest standards of reliability, cost-efficiency and safety.
"As thousands of new cranes have entered service over the past 20 years, the countries of the region have built up a massive and maturing pool of existing cranes. Many of these have been under-utilised in recent times, but are substantially sound and can achieve strong cost-efficiency, lifespan and safety gains by being modernised rather than replaced," says Mark Beckwith, Operations Manager, Konecranes and Demag Pty Ltd.
"Some older cranes just won't be able to compete with the efficiency of new crane technologies, but for others, overhead crane modernisation can present a cost-saving alternative to buying new equipment."
Less weight, increased productivity, enhanced safety
As well as being a leading global supplier of new cranes and the most advanced crane technologies, Konecranes is the world's largest crane service organization, with more than 600,000 assets of all major brands under service contract worldwide.
The objectives of any crane modernisation should be more efficient operation and improved productivity, both of which lead to increased profitability.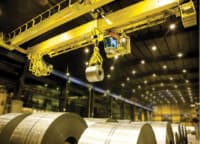 Modernisation substantially reduces the weight of older cranes, as new motors, trolleys, hoists and other components are significantly lighter than original equipment.
Enhanced safety also is a key consideration. Sway control technology, one of the more popular safety upgrades in crane modernisation projects, prevents loads from swinging, while enabling operators to move loads faster and position them more accurately.
A variety of automated features can be added in crane modernisation projects. For instance, cranes in busy, congested facilities can be automated to run on selected safe travel paths. And automated zone control allows a crane to be programmed to operate only in certain areas, to protect personnel and property.
Another high-tech upgrade is distance-detection control, which senses proximity of other cranes on a runway to prevent collisions. Updated cabs also enhance safety and productivity. They provide operators a better view of their surroundings and feature ergonomically designed seats with built-in controls. These features promote operator comfort, reducing back and neck strain, and making the crane easier and less tiring to operate.

Konecranes crane modernisation services encompass a progressive range of cost-efficient solutions extending up to TRUCONNECT Remote Monitoring — one of the biggest advances in crane safety and cost-efficient management over the past decade.
TRUCONNECT Remote Monitoring can be added to Konecranes equipment as well as cranes made by other manufacturers.
The system collects condition, usage and operating data from control systems and sensors on an asset and provides alerts of certain anomalies. Remote Monitoring data is used in maintenance planning and in predicting possible component or equipment failure.
"Sometimes the best option may be a new crane. But the number of existing cranes out there is huge, and many properly maintained cranes can be cost-efficiently modernised," says Mr Beckwith.
"Modernising a good existing crane to the best global standards can be a very attractive option where the machinery is assessed as fundamentally sound after thorough compliance, condition and safety audits to help to establish which is the best choice for each operation and industry."