Safety in the Workplace, Product News, Cranes
Published 06-05-2021
| Article appears in June 2021 Issue
Konecranes app to help crane operators with their inspections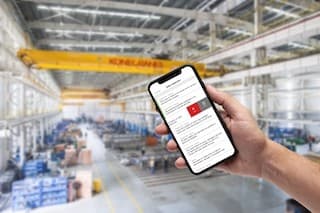 Konecranes is launching an app to help crane operators with their daily pre-shift and pre-lift inspections.
CheckApp has been designed to help crane users quickly and easily record their findings. These pre-start inspections are part of the owners' manual documentation of every crane and hoist, but Konecranes realised that thick paper manuals were not the most efficient way to conduct daily inspections.
A lot of countries also require these pre-start inspections to be done as a matter of code compliance.
"CheckApp was conceived as a great way to deliver an effective inspection format direct to any crane operator. Being electronic, it also becomes an accessible permanent record, unlike paper, which can be lost or misplaced," said Mr John Jackman, Modernisation and Light Lifting Sales Manager, Konecranes and Demag.
Mr Jackman was part of a team that developed the idea for CheckApp. The idea for this clever new app was the winning submission from a Konecranes global innovation contest.
"Almost everyone has a mobile device of some kind. Using electronic technology allows us to not only provide a quality, convenient inspection template, but also allows us to build in additional reference for those learning to do inspections properly," he said.
"In a practical sense, one of the most important functions the CheckApp achieves is that it improves the communication between a person identifying a fault and the repair of that fault by maintenance," says Mr Jackman. "No one wants an operator using a crane with a potentially dangerous fault condition."
"I'm delighted to see the app ready for release. It's a cost-effective way for customers to record and retrieve daily inspection data that can be used for internal auditing and compliance," said Mr Jackman.
"The app supports Konecranes Service's mission to provide smart technology and a digitally-enabled customer experience to improve the safety, productivity and sustainability of our customers' operations," he said.
The app can be downloaded for free from the Apple AppStore and from Google Play for Android devices.
 
Daily Inspections
A daily inspection is a user's – or crane operator's – own assessment of the condition of an asset and environment for safe use. It is not an expert's examination of the condition of an asset or component. Konecranes CheckApp for Daily Inspections follows the guidance set in the ISO 9927 standard and in applicable statutory regulations.
Daily inspection records are accessible on the yourKONECRANES customer portal where, combined with maintenance history and condition data collected from selected components with TRUCONNECT Remote Monitoring, customers get a comprehensive view of the condition of their assets in one easily accessible place. This data assists in planning maintenance actions and provides an audit trail of performed daily inspections.
The Daily Inspection view in yourKONECRANES shows daily inspection details as well as useful summary views. Daily inspection details – revealing who performed the inspection, when it was performed, what deficiencies were reported – are accessible through the activity, overview and asset fleet views. A detailed summary for the selected timeframe is provided in the Business Review tab.
Benefits include:
·       Satisfies regulatory requirements helping businesses stay compliant
·       Allows for easy and reliable auditing of performed daily inspections
·       Easy-to-use mobile app can help motivate users to perform daily inspections on a regular basis
·       Assists with timely recognition of potential asset-specific safety or production risk issues
·       Assists in identifying workplace improvement opportunities
·       Assists in identifying needs for operator training as well as deviations in following local safety and other site rules
For more information, send an email to sales.australia@konecranes.com
Sales inquiries 1300 937637 (Australia wide) or visit www.konecranes.com.au