KONECRANES AirBalancer MAKES LIGHT WORK OF HEAVY LOADS
15-01-2015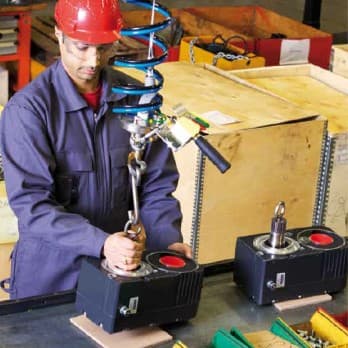 Konecranes has introduced an overhead crane system designed to make any load up to 350kg feel almost weightless.
The ATB AirBalancer also helps to enhance safety and efficiency in tasks such as industrial assembly, maintenance and production.
An integral part of Konecranes WLS family of workstations, the ATB AirBalancer is engineered in electric crane capacities up to five tons.
It can cater for the different lifting needs of diverse industries and can change with them as their needs evolve.
Using a floating load unit, ATB AirBalancer harnesses air pressure as the power source to make light lifting safer, easier and smoother, which significantly reduces cycle times, says Konecranes.
The AirBalancer prevents overloading and provides uninterrupted three-dimensional movement with no jerky motions while lifting or lowering, thus enhancing precision.
The technology greatly reduces any risk of accidental load damage or dropping.
AirBalancer technology is especially good for lifting fragile items and excellent for many industries, including manufacturing, solar energy, automotive, railroad and heavy vehicle maintenance, aviation, as well as health care and food and beverage production and processing.
Hygiene and cleanliness is also enhanced by the AirBalancer, with its pneumatic control technology creating a cleaner and quieter working environment at the same time as making it safer to operate and cheaper to maintain.
Features include:
Significantly faster lifting/lowering speeds than chain hoists, with speeds up to 2000 mm/sec, depending on the model.
Lifting, lowering, grabbing and pivoting can be performed easily using purely pneumatic control technology, for which a variety of options are available.
·       Fully adaptable air balancing. AirBalancer can be tailored to specific needs with features such as proportional control balancing control, balancing control for fixed load weight, dual load balancing, triple load balancing, automatic load detection or a combination of required features.
Versatile range of grab devices for whatever materials are being moved. Gripper control elements can be easily added to the modular balancer control panel system, providing all functions ergonomically at operators' fingertips. Electrical control elements also available.
·       Compatibility with a wide range of other crane systems, including Konecranes XA and XM workstation cranes, and jib cranes.
Konecranes
Ph: 1300 937 637