KONECRANES' WORKHORSE CXT CRANE FOR TOUGH TIMES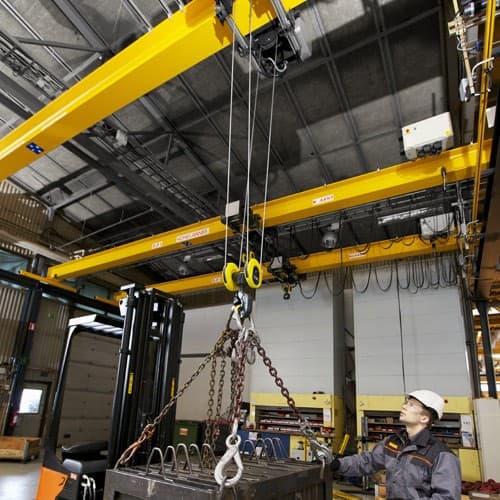 From large factory floors, to lifting individual items, CXT cranes from Konecranes perform the task with ease.
Crane reliability and efficiency are key considerations for any business.
The highly competitive nature of industry compels managers to seek out solutions to optimise their time, space, productivity and energy consumption across vital tasks that often must be completed within a narrow window of opportunity that comes once a year.
Such factors – including avoidance of costly downtime – are key considerations across industries such as food and beverage processing, primary processing, production engineering and warehousing, metal fabrication, mining and resources, steel, workshop mechanical maintenance operations
Konecranes offers a wide diversity of lifting solutions incorporating its CXT wire rope hoists, which are staple lifting devices used widely globally and throughout the Asia-Pacific in maintenance tasks, production lines, engineering industrial warehouses and factories. Their strength, compact size, speed, reliability and safety make them indispensable in assembly workshops where time and space is money.
"CXT wire rope hoist cranes are designed to be industry benchmarks of safety and ergonomics, with easy and effective load handling and optimum dimensions for space saving solutions," says Mr TK Mak, Industrial Equipment Manager, Konecranes South East Asia Pacific.
"Konecranes CXT wire rope hoist cranes utilise the latest technology for improved load accuracy, versatility and ease of use – making them the industry leader in medium-heavy indoor cranes," he said.
Konecranes CXT cranes are designed to be the industry benchmark of safety and efficiency.
Key features include:
·       Space efficiency – In an industry where floor space utilisation is difficult but vital, the compact design of the CXT allows them to operate closer to the walls, lift loads high and ultimately save valuable space. This enables businesses to optimise their valuable floor space.
·       Strength – Depending on the model, CXT can lift up to 80 metric tonnes. The new rope reeving system also extends the lifetime of the ropes by as much as 40% - having a significant impact on maintenance costs.
·       Safety – In an industrial setting, operators must be able to rely on the safe performance of the crane. Konecranes design, manufacture, and assemble all of the key components to ensure a quality wire rope hoist crane. High quality components and precise manufacturing based on years of experience enable enhanced durability of the hoist.
Konecranes' product development has invested in speeding up and extending hoist operation cycles, and in crane safety and durability. Features that have resulted from this research and development include:
·       Speed – The latest CXT wire rope hoists are available with adaptive speed ranges, which improve productivity and save energy consumption.
·       Adaptive Speed Range (ASR) – a stepless hoisting movement control method. It allows very slow speeds, which are important in moment of load lift-off and lowering. It also has the ability to lift up to 50 percent faster than traditional hoisting control. ASR is typically used in light to medium lifting.
·       Extended Speed Range (ESR) – this is an extension of the ASR that allows even slower speeds. ESR is typically used in heavy to very heavy lifting. When more performance is needed out of the hoist, ESR is the choice.
·       Positioning and area control – This feature is designed to assist the operator in positioning the load more efficiently and accurately. This allows the crane's working area to be adapted to the varying physical layout of individual facilities and production lines.
Konecranes
1300 937 637