Komatsu's MR series "Moving Mast" reach truck for big ton capacity
08-12-2020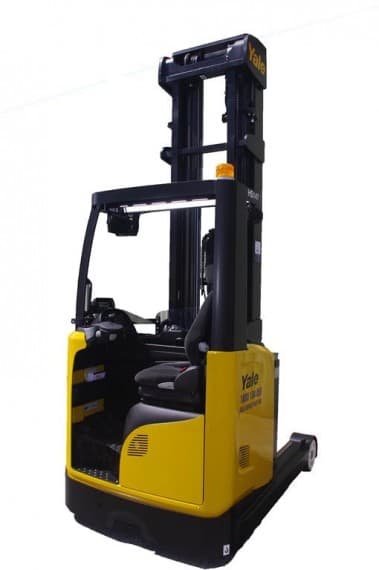 The MR series "Moving Mast" reach truck, built in Europe, includes seven models in capacities from 1,400 kg to 2,500 kg and lift heights up to 12,500 mm.
Also, there are three chassis sizes available to precisely match the truck to custom applications.
  
Chassis
The mono bloc chassis construction ensures maximum stability and superior mechanical strength in all drive and stacking situations, maintaining high residual capacities even at maximum heights.
The battery compartment is easily accessible by the standard battery removal system utilising the reach to extract & retract the battery.
Operator's driving position
The result of a thorough ergonomic study, the operator's position ensures maximum operating comfort. Each control component is easily accessible to grant productivity and precision for a total efficiency.
There is sprung seat with lumbar, longitudinal adjustment in accordance with the operator's weight and longitudinally adjustable steering wheel.
Also features include  anti-slip operator's feet platform and LCD display showing the necessary data for manoeuvreability.
Drive and Steering wheel
Features, a reliable three phase AC current traction drive motor able to meet the most demanding performance requirements. Delivering the necessary power under all load conditions & increased run times.
Steering wheel with electronic components and motor which grants safe and silent operations with minimal force.
Steering wheel which can be longitudinally adjusted for an excellent driving comfort. Possibility to select the driving at 180° or 360° by simply pressing on the desired push button.
Hydraulic functions
Powerful and noiseless lift motor is AC, controlled by proportional solenoids which regulate the pump rpm, always providing the right quantity of oil.
All the hydraulic functions are controlled by finger tips which ensure precise and safe load handling for the operator. Lifting gear with integrated braking system allow gradual slow down at end of travel avoiding rough stops which could compromise load stability.
Masts
The masts are constructed from wrap around external section to ensure torsional and bending rigidity.
Masts are available with triplex with full free lift large total free lift and lifting heights available to 12,00 mm, and more; tilting forks holder plate (Tilting Forks) and  integrated lateral shift to avoid forward movement of the centre of gravity and maintain optimum residual capacities at all lifting heights.
Electronic system and Brakes 
The ECO-eLo energy efficiency mode reduces motor speed and optimises battery consumption and can, dependent on the application, reduce energy consumption by up to 20% without having a significant impact on overall productivity.
Dual CANbus technology ensures reliability & simplified maintenance. 
The digital display monitor displays all the machine's functions and allow many adjustments to optimise the performance of the machine, adapting it to the type of work it has to carry out. All the parameters relating to drive, braking and hydraulic functions are electronically adjustable according to different customer needs.
Finally, there are independent braking systems throughout the range.
Komatsu - www.komatsuforklift.com.au/