KOCKUMS GIVES BEGA CHEESE PRODUCTION A LIFT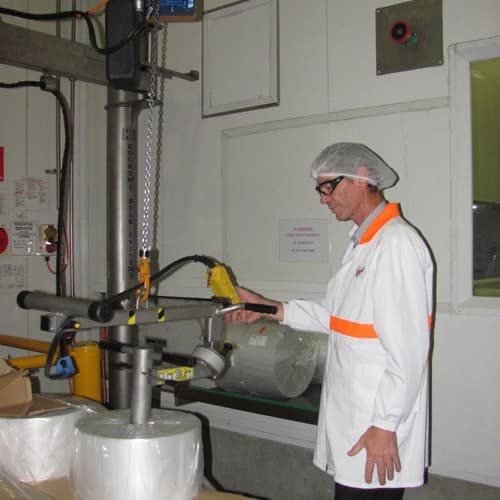 Bega Cheese, located on the NSW South Coast, has grown to become a $1 billion turnover company.
Bega manufactures a range of cheeses to suit different tastes, including gold medal winning Strong and Bitey Vintage Cheddar.
And Bega Cream Cheese is highly sought in Asia.
Theirs is a great story of growth, producing the right products of excellent quality and having a strong management team.
Bega spokesperson Darryl Flaherty says safety is paramount in their manufacturing plant. It is seriously considered as "caring for mates," he says.
"Bega Cheese also realise that accident downtime is to be avoided and have always been prepared to outlay investment to prevent potential accident situations, which has an immediate return on investment," Mr Flaherty says.
To reduce the risk of injury and enhance worker safety Bega Cheese in recent years has implemented three innovative handling solutions from Kockums Bulk Systems.
This includes the Tawi vacuum-assisted lifting systems and Protema hoists.
Bega currently uses Protema trolleys to pick or place rolls of labels to the rear of a shelf. With this trolley system there is no longer a need for expensive Roll-Out racking.
With the Protema trolley rolled under the bottom shelf, the core gripper is able to reach the rear rolls.
It is then inserted, and grips instantly by the touching of the control lever.
The roll is then lifted by the mast attachment, using the hand control, and the trolley enables moving it to a packaging machine.
A Kockums' core gripper attached to a hoist is used to reposition another sized roll.
The core gripper is introduced into the core, and at the touch of the lever an attachment is made, and the roll is then lifted and relocated.
At the stage of release, the core gripper is rotated through 90°, which allows the roll to be placed on the shelf, and the core gripper extracted.
Tawi vacuum operated Vacu-easylifts are used to pick a pair of boxes simultaneously for de-palletising, and then positioning them onto a conveyor.
A lightweight overhead gantry allows the operator to move the boxes easily, requiring very little energy.
Kockums Bulk Systems will have its vacuum-assisted lifting systems on display at National Manufacturing Week in Melbourne from May 26-29.
Kockums Bulk Systems Pty Ltd
Ph: 03 9457 8245