Kimberly-Clark wins major environmental award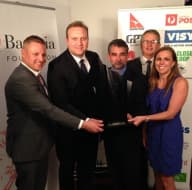 Kimberly-Clark Australia has been recognised as an Australian leader in sustainability at the Banksia Sustainability Awards in Melbourne last week.
The company won the prestigious Banksia award for Leading in Sustainability for large Organisations.
Kimberly Clark Australia has transformed its substantial manufacturing and consumer goods business with leading brands into an Australian market leader in sustainability.
The company's Kleenex, Kleenex Cottonelle and Viva brands are now part of a partnership with environmental NGO WWF due to Kimberly-Clark's commitment to using Forest Stewardship Council (FSC) certified wood products in its tissue based products.
In 2011 Kimberly-Clark Australia and New Zealand rolled out a comprehensive and ambitious sustainability strategy entitled Our Essential World. The key elements were focussed around its three pillars of sustainability – people, planet and products. 
Graz van Egmond, Chief Executive Officer Banksia Foundation said: "Kimberly-Clark set about using the power of its brands to help educate Australians about key sustainability issues. At the same time, challenging itself to significantly reduce its carbon emissions, reduce waste to landfill, being active community contributors and showing leadership around post-consumer waste and ethical sourcing."
The Banksia award for Leading in Sustainability for large Organisations award recognises businesses and organisations with over 200 employees that demonstrate leadership through fully integrating sustainable principles and practices.
The Torres Strait Regional Authority (TSRA) won the Gold Banksia Award, the most prestigious, of the Banksia Awards.
The judges found the TSRA's Queensland sustainability program was worthy of Gold recognition.
"Some significant challenges were overcome and key lessons have been learned, they noted. "This project has truly demonstrated the positive way in which traditional cultural practices of caring for the land combined with modern practices can achieve outstanding biodiversity significance."