KEY FACTORS TO CONSIDER IN CHOOSING A RAPID ROLL DOOR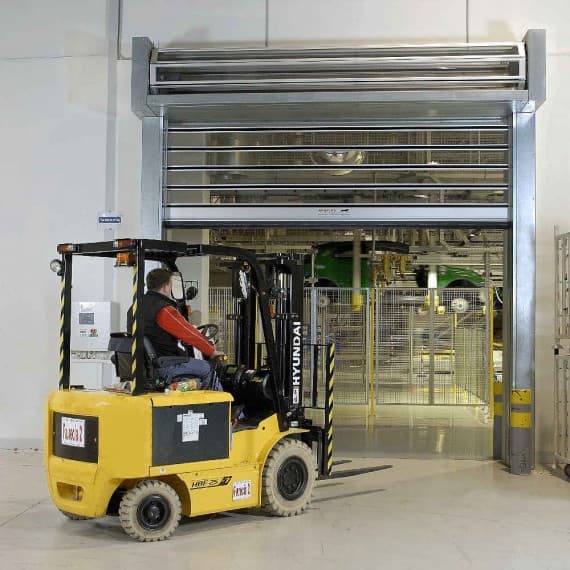 Depending on the exact application, a rapid roll door can improve the efficiency of manufacturing and logistics operations. It can also provide improved protection for manufacturing and quality control areas.
But before going ahead with it, there are a few points that you need to consider first. It's quite an investment after all, and having the right type of door can be greatly beneficial with the potential to improve both productivity and the protection.
Here are some things you need to keep in mind when choosing a rapid roll door.
Size
It may seem obvious, but size is critically important, as the consequences of even minor misjudgments of size can be costly. Rapid roll doors are usually customised to size, which does make it a lot easier for buyers. But as the consequences of incorrectly sized doors are so great, it is worth looking for a supplier that provides a free measure and quote service to remove this stress when making your investment.
Speed and safety
When it comes to being time-efficient, a high-speed door is a great option. They are designed to accommodate high traffic movements without a reduction in quality or speed, and DMF offers doors that can operate as quickly as 4m/s.
But this speed must be coupled with safe operation. It is therefore very important to consider what safety sensors are used and their effectiveness for approaching traffic, and for traffic within the opening. All DMF doors come with at least two safety sensors, and many more can be added.
Reliability
More than its speed, a high-quality rapid roll door has to to withstand the pressure from its surroundings, and from the continuous opening and closing. It also must have a seal that is tight enough to act as a barrier for airflow, vermin entry, and withstand the prevailing air pressures or wind.
Cost
Cost will inevitably be a major factor in choosing which door model to purchase: but you can't simply sacrifice quality. Be aware of the full cost of the door - including the installation. Make it a point to examine the parts of the door and measure if they can handle the pressure of your workplace. This will give you a feel for ongoing maintenance costs. The cheapest door on the market may not necessarily be the best investment.
Insulation
Is thermal or sound insulation a requirement? While many applications simply use rapid roll doors for security, insulated rapid roll doors are available that provide both sound and thermal insulation. If installed correctly and made from quality materials, these insulated rapid roll doors act as a barrier between temperature zones and can significantly improve energy efficiency.
Security
Rapid roll doors are now commonly used to control secure access though an opening, whether this be an internal application or full overnight security. The type of door is critical in this selection.
While a flexible PVC rapid roll door will provide adequate internal security, external applications may require a higher degree of security. DMF can supply Efaflex doors complete with aluminium door blades that in most cases are stronger and more secure than a standard roller shutter doors.
Activation
The activation mechanism is an essential decision as part of the selection since how the door is activated is critical to both the efficiency and security of the door. Important considerations include:
The type of traffic using the opening
The frequency of use
The security requirements and whether there is restricted access
What cross-traffic movements occur
The interaction between the activation and the safety of the operation
DMF has the experience to advise the best solutions to ensure your door selection is optimised by the correct activation.
Service
A rapid roll door is best considered like a motor vehicle: even the highest quality door still needs to be serviced or repaired at times. And, just as you wouldn't purchase a car that you knew no one could maintain properly, it is important to carefully consider how well a supplier can service the door. This includes response time, product knowledge, and also availability of spare parts.
As a manufacturer of its own doors, DMF carries a large inventory of spares. And this is also the case for the Efaflex products that DMF distributes throughout Australia.
DMF
1800 281 170
www.dmf.com.au