Kennards takes kids charities to a hire level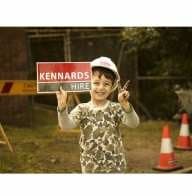 Equipment hire specialists Kennards will kick off its annual charity initiative, Kennards For Kids on September 1.
While Kennards can "make your job easy," they also hope to make life a little easier for sick, injured or disadvantaged kids throughout Australia.
Throughout September and October, the nationwide Kennards For Kids initiative will raise money and awareness for carefully selected children's charities.
For every hire made during September and October, Kennards will donate $2, which will be distributed around the country to selected organisations to assist the kids who need it most.
As a family-owned business, Kennards are passionate about providing kids with the best start to life possible.
The company donated more than $250,000 to children's charities and organisations following last year's campaign.
Allen Besseling, CEO of Kennards Hire, says it is vital for kids to be given every chance at success in life.
"We believe that it's all about breaking negative cycles early on in a child's life," said Besseling.
"We started Kennards For Kids because it allows us to help the youth in our communities realise their potential. It really is the most rewarding part of what we do."
This year, support is being extended to charities including Stepping Stone House, the Smith Family Scholarship program, Kids Xpress, Variety, the Children's Charity, the Constable Care Foundation and the Children's Health Foundation. 
You can support Kennards For Kids and its charity partners by visiting your local Kennards Hire outlet and hiring equipment for your spring-clean, building or renovation project throughout September and October.
For more information or to find your closest Kennards Hire outlet visit: www.kennards.com.au