Kennametal sets new tool benchmarks
02-08-2013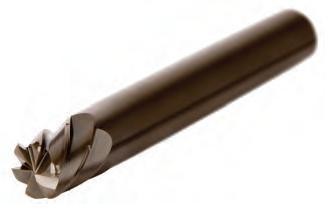 Perhaps the most basic assumption in machining is that cutting high-strength materials takes higher-strength tools.
Proprietary nickel-based alloys used in gas and steam turbines, for example, are among the world´s strongest materials, continually being developed to allow power plants to run at much higher temperatures.
This not only provides more power to those that need it, it increases plant efficiency and reduces or eliminates harmful emissions.
Superalloys such as Inconel, Waspaloy, Rene, and others come into play in turbine blades and other parts that require high strength, excellent high temperature creep resistance, phase stability, and resistance to oxidation and corrosion.
But machining such materials can be a slow, laborious, and cost-intensive experience. In general, solid carbide tooling commonly runs at speeds between 65 and 200 SFM (20 to 60 m/min) in such materials with limited tool life.
New Beyond KYS40TM-grade solid ceramic endmills from Kennametal, however, are presenting orders-of-magnitude improvements in machining high-strength nickel-based alloys, roughing at cutting speeds up to 3,300 SFM (1000 m/min) with tool life two to three times longer than comparable solid-carbide tools.
Kennametal´s new SiAlON KYS40 ceramic grade and the overall design of the solid ceramic endmill now offers the most effective way to rough nickelbased high-temperature alloys.
Cutting speeds on nickel-based superalloys can be up to 20 times higher compared to solid carbide end mills.
Two types of KYS40 solid ceramic end mills are available, a six-fluted version for face milling and profiling; and a four-fluted, necked version for slot milling and pocketing.
For more information, visit: