KEMPPI TO UNVEIL HIGH-PERFORMING FLEXLITE GX GUN RANGE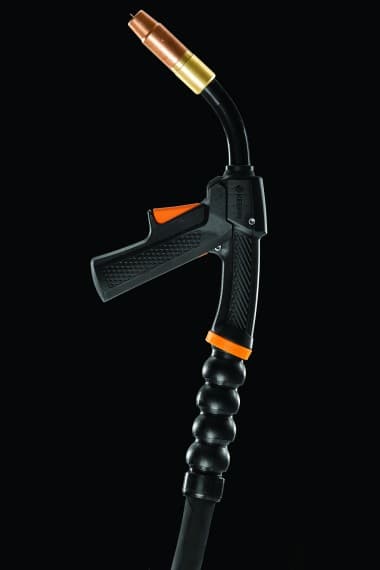 Kemppi – a top manufacturer of welding equipment – is set to unveil a new line of Flexlite GX guns made for MIG/MAG welding.
With comfortable, reliable and high performing design, the new guns are designed to deliver productivity. They are also made to be cost effective – delivering an efficient usage of consumables.
The guns are robust thanks to quality materials and construction. They are easy to use, with on-torch remote controls available as optional accessories.
The GX range complements the existing Flexlite TX range made for TIG welding, and comes in a variety of flavours to suit the user's need.
High performance
The GX range delivers excellent welds and will perform in extreme temperatures and in demanding environments.
The guns maintain efficient use of power source capacity. They assist users to create smooth and spatter free welds.
The gun necks stay cool thanks to separated shielding gas channels and cooling circulation that goes to the extreme end of the gun neck. This design results in cleaner welds and reduced shielding gas consumption.
The temperature of the GX contact tip is up to 35% lower than some other comparable welding guns. This extends contact tip life and reduces consumable waste.
Ergonomic
The lightweight guns boast a flexible cable set and innovative ball-jointed cable protection that lessens wrist load.
"The pistol grip handle has been anatomically designed so that it feels like an extension of the welder's hand," a release from Kemppi said.
"Providing excellent balance, it allows for a natural wrist position, which makes the work at hand easier and more effortless, particularly when doing long welds, and allows the welder to concentrate on challenging tasks."
Efficient and easy
The GX guns' design cuts down on changeable parts to reduce inventory costs.
Every gun has a quick response code (QR) that allows users to locate needed parts and accessories without fuss. Just scan the QR code.
For more information on the new Flexlite GX guns call Kemppi Australia on (02) 8785 2000 or email sales.au@kemppi.com or visit https://www.kemppi.com/en-US/offering/family/flexlite-gx/.
Kemppi Australia