KEMPPI LAUNCHES NEW MECHANISED WELDING SYSTEMS
30-05-2016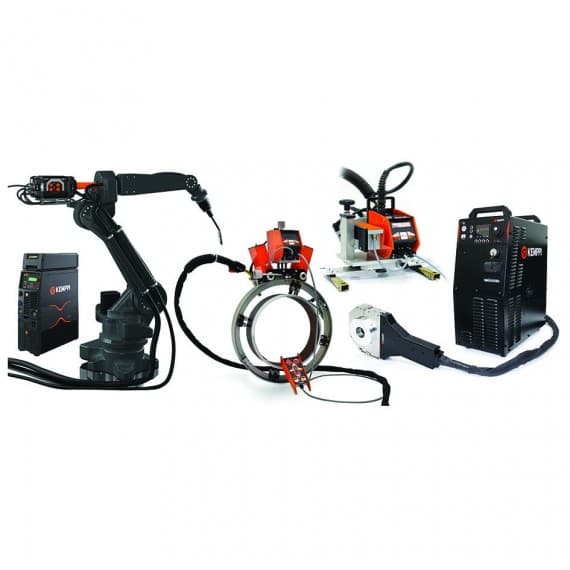 At NMW 2016 in Sydney earlier this month, leading international welding equipment manufacturer, Kemppi, released its new range of Mechanised and Robotic Welding.
According to Kemppi Australia CEO David Green, the range sets a new industry benchmark for quality and productivity improvement in welding production operations. Kemppi's family of Mechanised Welding Systems can be combined with Kemppi WISE software processes to increase productivity several hundred per cent when compared to manual welding. This not only improves productivity but also ensures greater continuity in weld quality.
Mr Green says more companies globally are now looking to mechanise manual welding operations.
The investment cost is quickly repaid with improved productivity and quality, he says.
"These systems are not only easy to use, they deliver outstanding results.
"They can be programmed to weld any complex geometry."
Simple to operate and user-friendly, the Kemppi Mechanised Welding Systems empower the user as they allow the welder to weld remarkably quickly, safely.
And, there is also a considerable saving in time and costs, not only because the Systems improve the speed of welding, but also because the need for rework is diminished.
The Mechanised Welding System range includes six systems for Mig and Tig options for both rail mounted seam welding and orbital welding for tubes and pipework. The wide range features simple and compact battery powered systems to advanced professional solutions for multilayer welding of pipes and tubes.
The range includes the A5 Mig Rail System 2500, the A3 Mig Rail System 2500, the A5 Mig Orbital System 1500, and the A5 Tig Orbital System 75 and A7 Tig Orbital 150 and 300.
The Mig Mechanised Welding Systems can be further combined with Kemppi's unique Reduced Gap Technology (RGT) software to take welding productivity and quality to an even higher level.
Together, they further enhance reliability in the consistency of the weld, the quality of welding and speed, to further increase productivity.
For those involved in Robotic welding, the new A7 Mig Welder 450 is impressive. This solution is designed for robotic arc welding and can be easily integrated with any robot brand. It is ideal for any industry using robotic welding for mild steel, stainless steel and aluminium components.
A comprehensive and perfectly balanced process package, the A7 Mig Welder 450 guarantees reliable welding performance with no compromises. Together with Kemppi WISE software, the A7 significantly improves welding speed and boosts production efficiency.
Designed with flexibility in mind, this same equipment can be used for a variety of welding tasks and offers extensive functionality.
The A7's power source can be quickly accessed from an external computer via Ethernet with a regular web browser. No extra programs are needed and the system can be set up quickly and easily to help save on time.
Kemppi Australia
Ph: 02 8785 2000