KEMPPI AUSTRALIA LAUNCHES NEW ARC WELDING SYSTEM
24-03-2015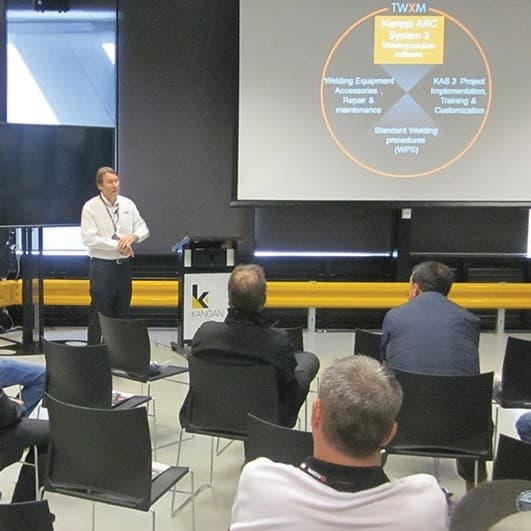 Leading Australian welding equipment supplier, Kemppi Australia, has launched its Arc System 3 welding management system, with a special demonstration in Melbourne.
The Arc System 3 is designed to improve welding quality management and operational productivity as well as reducing operating cost and risk.
Representatives from more than 30 major companies attended the launch.
Arc System 3 is a modular suite of software-based solutions.
"Users can implement the various modules according to their needs to effectively monitor, control and manage the quality and efficiency of their welding operations while capturing relevant documentation," explained CEO of Kemppi Oy, Mr Anssi Rantasalo.
"The System traces every weld, records welder qualifications, welding procedure specifications (WPS), all materials and operational welding parameters. Once welding parameters are set, any deviations by the welder are identified in real-time and can be altered to eliminate the need for rework."
The System can be applied to single and multi-machine, and multi-site operations both within a country and across borders, and managed from a single central welding co-ordination point.
To emphasis the Arc 3's capability, Mr Rantasalo also announced at the launch that Kemppi is implementing its first, multi-site commissioning of the System across international borders.
Peikko Group, a leading global manufacturer and supplier of concrete connections and structures, together with Kemppi will deploy the Arc 3 at Peikko's production units in Finland, Lithuania and Slovakia.
"The precise welding information that the Arc System 3 software will provide Peikko from its production plants in these three countries, will have a positive effect on the overall efficiency of the company's production, profitability and costs," said Mr Rantasalo.
Kemppi Australia's Managing Director, Mr David Green, also revealed that the first Victorian implementation of Arc System 3 was underway.
The Arc System 3 is currently being implemented by Shadbolt Engineering, a company that designs, fabricates, assembles and installs metal structures on behalf of a broad client base.
"Welding is a critical component of its day-to-day activities and the Arc 3 System will help ensure the company's ongoing quality of welding work, build productivity and simplify the capture of welding data," said Mr Green.
Attendees from project management, manufacturing, offshore fabrication, oil and gas, and the construction and mining sectors, were given an impressive demonstration of the Arc 3 System in action.
Mr Green told guests: "Arc System 3 automatically collects and analyses big data information for you so that you know at a glance how the welding operation is proceeding and if any adjustments need to be made, saving time and money.
"Plus, it can collate welding documentation automatically to significantly reduce the time and cost associated with post welding administration.
"In essence, Arc System 3 is an invaluable toolbox of solutions that support welding operations to become significantly more efficient and productive, save time and money, and minimise risk."
The modular nature of the System means it can be tailored to each organisation's specific requirements. The System's flexibility ensures features such as NDT, welder maintenance and power source calibration/validation scheduling can be built-in as required.
It also fully supports the operation of a formal welding quality management system, stated as a requirement under local welding standard AS/SNZ1554.1:2014, and specifically the quality management requirements set out in AS/NZS ISO 3834-2, as recommended particularly for structural fabricators requiring 3rd party approval under the AS1554.1 standard.
"Up to now, welding processes in critical operations have relied upon the integrity of the welder plus retrospective welding inspection to guarantee welding quality, Mr Green said.
"The Arc System 3 revolutionises all this. It factually confirms that all welds are as they should be, and delivers complete peace of mind. As we've said it lets you 'stop guessing and start knowing'."
Kemppi Australia
Ph: 02 8785 2000