KEEPING IT CHILL IN AUSTRALIA'S BREWERIES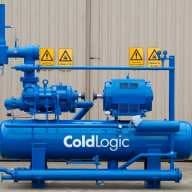 An Adelaide-based refrigeration firm is keeping Australia's beer cold, at least in breweries. Cold Logic won a $900,000 contract to design, supply and install a refrigeration plant at craft brewer Pirate Life Brewing's new $15 million Port Adelaide facility, and will chill an expected 11 million litres of beer annually.
This is the latest in a series of brewery contracts for the company, including Coopers Brewery (Regency Park, SA), 4 Pines Brewing Company (Manly, NSW) and contract brewing company Brewpack (Goulburn, NSW). Other major clients include Thomas Foods International, Arnotts, Aldi and Pernod Ricard Winemakers.
Final testing of the Pirate Life project was completed in early March before the brewery officially opened on Saturday, 9th March. The new facility will facilitate Pirate Life's national and international growth, while its existing facility in Hindmarsh will remain a designated brewery to focus on innovated brewing styles and new products.
The 400kW refrigeration plant, designed and assembled at Cold Logic's nearby factory, consists of compressors, a plate heat exchanger, an evaporative condenser, a glycol tank, and all associated pumps, valves and insulated pipe work.
This high performance system will improve efficiency by approximately 30 per cent through reducing the energy required during fermenting and brewing. It utilises the natural refrigerant ammonia, which has no greenhouse warming potential or impact on the ozone layer.
"Typically, refrigeration makes up half of a brewery's energy use," says Cold Logic Partner Eddie Lane. "The refrigeration system at Pirate Life's new brewery will deliver long-term cost savings and help secure environmental sustainability, which is key in such a highly-competitive industry.
"Cold Logic has been a trusted supplier to Pirate Life since shortly after the business was established. We are proud to be involved in such a significant project for one of Australia's most successful and respected craft breweries."
Pirate Life co-founder Jared Proudfoot says Cold Logic has played a key role in converting the historic woolshed into a world-class brewery.
"Cold Logic has been an ongoing and valued partner of our brewery, completing a number of upgrades at our Hindmarsh facility to support our ongoing growth," he says. "Our new brewery will ensure we can continue increasing production to quench the thirst of beer drinkers locally, interstate and overseas."
Now in its 35th year of business, Cold Logic employs 69 staff nationally and has a four-year growth plan to reach an annual turnover of $30 million by 2023.
Lane says the company has diversified its target industries to capitalise on growing markets and help safeguard against downturns.
"The food and beverage industry remains Cold Logic's key market and our largest source of revenue," he says. "We have chilled approximately 1.6 billion litres of Australian beer since Cold Logic was founded, which is testament to our expertise and reputation in the sector.
"Our dedicated defence division is going from strength to strength and has allowed us to tap into new market segments, while at the same time, our new cooling tower service division has seen us branch out into market sectors in which we previously had no exposure."
Cold Logic
08 8240 3333
coldlogic.com.au/