Published 27-06-2019
| Article appears in June 2019 Issue
KEEPING UP WITH GLOBAL DEMAND IS GREATEST CHALLENGE FOR MELBOURNE MINING SUPPLY MANUFACTURER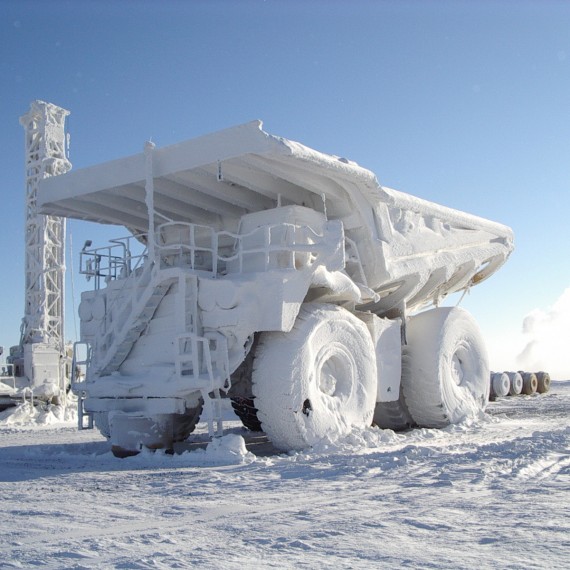 Duratray's products have to survive all weathers
From its Melbourne headquarters, Duratray - a leading supplier of trays for mining trucks – is leading the way with innovative technology that has driven its global expansion.
Duratray was established in the 1970s. Since its purchase by current owners Conymet in 2001, it has grown its international footprint to 33 countries across five continents.
A family-run business - first by their late father and now by Melbourne-based Chilean Marcelo Medel and his two brothers - Duratray is making waves in Australia, Russia, Canada, the USA, Chile, South Africa and Europe.
Despite the industry's downturn, having the right support to grow the business means Duratray has more expansion plans afoot.
"We are a leading manufacturer and exporter of dump bodies for haul trucks used in open cut mines and quarries," says Marcelo Medel. "Our difference is in our suspended dump body solution. Instead of a steel base tray, we use lightweight rubber mats on heavy-duty fibrous suspension ropes that increase shock absorption and abrasion resistance."
The patented tray reduces loading impact and dampens noise. It also reduces haul residue, known as carryback, that can adhere to the tray in certain weather conditions.
"The tray design optimises the mining process. It has other benefits too: lower maintenance costs, increased capacity and payload, better safety and reliability, and less vehicle wear," says Medel.
Duratray's customers are seeing the difference in their bottom line, with payloads of up to 40 tonnes - 20 per cent more than conventional steel body dump trucks.
The company's commitment to noise reduction has won praise including a finalist's position in the 2017 Australian Mining Prospect awards, as well as commendation by the NSW Minerals Council.
Duratray's success on the international stage has also been recognised with a prestigious export accolade: the Governor of Victoria Export Awards 2010, in the Minerals, Energy, and Related Services category.
The company's plans to expand and innovate continue. The Duratray team is working with German manufacturer Kuhn to develop the world's first 100 per cent battery-operated dump truck. The so-called 'green truck' is in trial operation in Switzerland.
"This is a game changer for our industry," says Medel. "Combined with the innovative technology of our suspended dump body tray, the electric vehicle will reduce carbon, noise and pollution while increasing productivity."
With more than 500 staff globally, Duratray is the first Chilean enterprise to establish itself in Australia.
"We're very proud of our strong performance over the past two decades, and our continued growth through the economic downturn," says Marcelo Medel.
These days, the company's greatest challenge is keeping up with demand. "We've grown more than 300 per cent over the past 3 years, and have recently opened branches in Johannesburg and St Petersburg. We're in the fortunate position of having to increase production to meet demand; we're doing that by investing in bigger facilities in Australia and offshore.
"With Bank of Melbourne's support, we've invested more than $5 million in our Australian branches over the last three years, including new Perth and Brisbane facilities and a bigger facility in Melbourne set to open next year."
A partner for more than 12 years, Bank of Melbourne is key to the company's success domestically and internationally.
"Bank of Melbourne is our biggest banking partner in Australia," says Medel. "The bank supports us with finance, but it's their strategic point of view that we really value. Mining is a dynamic environment and if we take too long to act, we can lose business. There have been times when we've needed Bank of Melbourne to support us within a 48-hour period and they've absolutely been there.
"We often include our relationship with Bank of Melbourne in our proposals to enhance our offer. It means we can provide strategic insight and more attractive payment terms to our clients."
Marcelo Medel says that regardless of the industry, Bank of Melbourne's strategic approach can help businesses to thrive.
"With economic conditions looking up, businesses need to respond to opportunities," he says. "With Bank of Melbourne, Duratray can offer customers things we didn't even know existed. It's good for our business and good for our customers."
Bank of Melbourne
0402 970 792
www.bankofmelbourne.com.au/manufacturing