KEEPING DROUGHT-AFFECTED BUSINESSES MOVING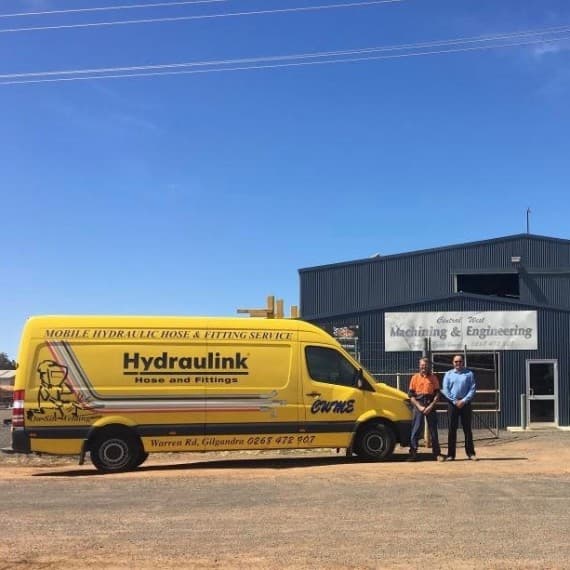 Hydraulic hose, fittings and service specialist Hydraulink is optimising uptime and combatting the unique challenges of rural Australian industries through the leadership and service expertise of its distributor in the central-western NSW town of Gilgandra, Central West Machining and Engineering (CWME).
"Key industries in Gilgandra – including agriculture, earthmoving, forestry and transport – are all too familiar with the struggles faced by many drought-affected and geographically distant rural Australian communities," CWME'S owner Ryan Brooks says. "Of prime importance to producers struggling to maintain their productive capacity is quick and thorough machinery maintenance and readily available stock of hydraulic hoses and accessories vital to machinery and plant."
CWME is among Hydraulink's network of 400 service outlets throughout Australia and New Zealand, who bring essential hydraulic hoses, fittings and safety-compliant and traceable service expertise to hugely diverse locations.
Without hydraulic hoses and fittings, a lot of machinery just won't function. Also, in addition to 24/7 service, hydraulic specialists need not only to have a well-equipped base to which customers can come, but also to be able to travel sometimes hundreds of kilometres to where customers have a service issue on-site. With this in mind, CWME recently added a large Hydraulink service van to its business to better serve the local customers it has built up since becoming a Hydraulink distributor in 2009.
"Machine operation and equipment maintenance in a rural town can be difficult for many farming families," Brooks says. "It can be stressful trying to get hydraulic service and components quickly when you're stuck 'bang in the middle of nowhere', and running out of hydraulic components to keep machinery operational can be a nightmare."
For drought-affected communities like Gilgandra, and producers dependent on irrigation, it can be particularly challenging if primary production comes to a standstill – even briefly – when times are tough. To keep the economy ticking over, the newly purchased large CWME Hydraulink van is always on hand to go the extra distance and accommodate all service requirements in the area.
"Reducing downtime is an inherent part of running any farming business," Books says. Trying to get the crops off to the markets can be difficult during harvest time, sometimes in drought and especially when it's raining.
"We try to maintain high levels of hydraulic componentry in stock as it can be difficult to transport supplies in quickly in rural areas, especially on weekends. Now that we have the van, we are ready to head out to customers on site and service their vehicles and machinery.
"Fully-serviced agricultural machinery including tractors, harvesters and conveyors are of the utmost importance to the agricultural industry. Machinery and equipment that have not been fully serviced can result in high downtime for the agricultural workers.
"We are part of the Hydraulink network because they have good quality fittings and the numbers to back it up. They always offer great service – Jake Milne (Hydraulink's area sales manager) has provided outstanding service and support to CWME."
Milne is delighted with CWME's professionalism and forward-thinking approach.
"CWME is an innovative company with a strong focus on customer service," he says. "Hydraulink places a great deal of importance on service so it's fantastic to see how its distributors embody this value. CWME has really embraced Hydraulink's can-do attitude and is solving problems that are common to rural areas like Gilgandra.
"Customers value the fact that we deliver the same industry-leading standards of service, safety and standards compliance from the one brand. This is done with efficiency and consistency, whether delivered on-site at the customer's facility, or at Hydraulink facilities. The peace of mind achieved by assurance of quality and safety is a major plus to operators big and small."
Hydraulink
1300 36 37 34
www.hydraulink.com.au