Keep your cool with portable cooling systems
02-10-2013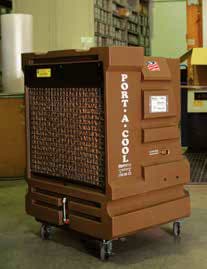 Melbourne-based Portable Cooling Systems has been importing Port-ACool Portable Evaporative Cooling units for five years.
The units are available in six sizes to cool areas from 45 to 370sqm.
Operating on tap water and 240V power, daily costs range from only $1 to $3 a day depending on the unit.
The small Cyclone 2000 and 3000 models, that use a Centrifugal Air Delivery System, are ideal as a spot cooler in small workshops, workstations and shops.
Mounted on wheels, they feature an Inbuilt Water Reservoir with a water level indicator and can be directly connected to mains water if required.
The two-speed fan allows you to cool up to 65 sqm (Cyclone 3000), delivering 3000 CFM of air. These units start as low as $999.
The Jetstream range is available in two models – the Jetstream 1600 or 2400.
The Jetstream 1600 has a 16" fan delivering up to 4000 CFM of air, and cools up to 93sqm. The Jetstream 2400 has a 24" fan delivering up to 7500 CFM of air, and cools up to 186sqm.
These models have an oscillating fan, that variable in speed motor and adjustable louvers allowing you to vary the speed and direction of the air.
Both units have inbuilt water reservoirs with water level indicators, and can be connected directly to water mains. Mounted on wheels and using standard 240V power, these are ideal for production lines, small warehouses and garages. Pricing starts at $2499.
For cooling big areas, the 36" and 48" variable speed fans are ideal.
They connect directly to mains water or a portable filler cart. Mounted on wheels it can deliver 10,000 CFM of air and cools up to 245sqm.
The 48" single speed unit is ideal for volume air movement, in areas like production lines and other manufacturing applications.
Also wheel mounted, it delivers 20,000 CFM of air and cools up to 370 sqm. mt. These units use standard 240V power, and start at $3999.
Portable Cooling Systems currently has a limited number of ex-demonstrator units in stock.
Contact the sales team for pricing and more information.