Keep safe and cool with UVeto sunglasses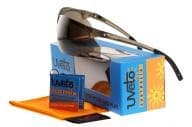 The Australian environment is one of the harshest and most dangerous in the world. 
With extreme levels of UV, safety must be our number one priority. 
VISIONSafe is dedicated to keeping an eye on your safety.
Their latest range of stylish new UVeto Australia safety sunglasses have been designed to protect you while you work – and at play. 
With the combination of VISIONSafe's experience in eyewear and UVeto Australia's dedication to sun protection, they have produced safety sunglasses you can trust in all situations.  
With 99.9 per cent UV protection, anti-fog and scratch resistant lenses, and a microfiber bag that doubles as a cleaning cloth, these safety sunglasses are designed to suit even the toughest Australian conditions. 
With four unique styles in the new UVeto Australia safety sunglasses range, everyone and every situation is covered.
First comes the Tegus, an unassuming design featuring a semi-rimless frame, soft flexible temple ends and a ribbed nose pad, perfect for all day comfort. They provide a fantastic 99.99 per cent UV protection, making them perfect for indoor or outdoor work. 
The Gecko is a sleek frame that provides luxury with soft flexible temple ends and a rubber nose pad.  
They are available in an elegant glossy black frame, with a choice of smoke, clear or the eye catching dark silver mirror lens. 
The Monitor, one of the more unique styles in the range, offers a contoured designed and semi rimless frame, allowing for improved peripheral vision. 
Like the rest of the UVeto Australia safety sunglasses, they feature anti-fog and anti-scratch lens making them suitable for any job. They are designed with a soft and flexible frame that makes them extremely comfortable to wear all day, without discomfort. 
This comfort and flexibility makes them desirable for rough and unpredictable work conditions.
These frames are perfect for those jobs that require full peripheral vision, without compromising on safety.
And finally, the UVeto Python is designed for the fashion conscious. Users have a choice of camouflage frame or the more elegant glossy black.
These frames are also available in a polarized lens with UVeto Australia's great UV protection, making them suitable for any outdoor requirements.
VISIONSafe 
Ph: 08 9295 0624