KEEP PRODUCTION ON TRACK WITH NEW BEYOND DRIVE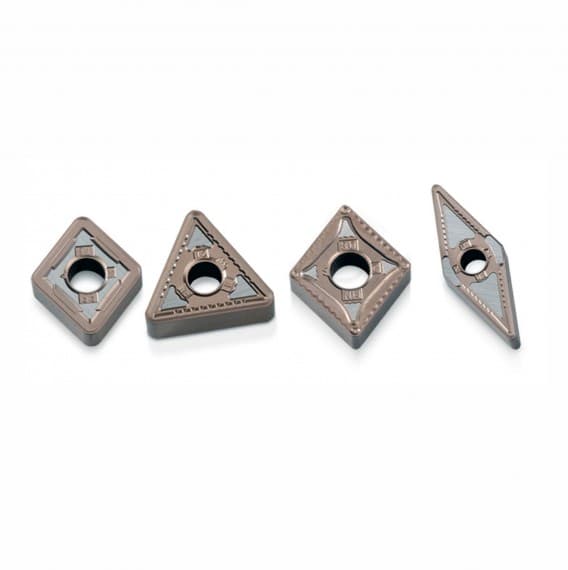 New Beyond Drive inserts from Kennametal feature a bronze TiOCN top coating that increases wear resistance and functions as a wear indicator.
Manufacturing is experiencing a powerful resurgence worldwide, and along with that resurgence come tighter schedules and more competition, increasing the pressure on manufacturers to deliver more components faster and reliably to the plants that need them. The need for different and better thinking is more focused than ever.
New Beyond Drive cutting tool inserts from Kennametal are helping component suppliers expand and thrive in this environment with enhanced performance and extended tool life that mean many more finished pieces per cutting edge.
Specifically designed for cast irons, steels, and stainless steels that make up many critical components over a variety of industries, Kennametal´s new Beyond Drive inserts are a product of ongoing design leadership, engineering, materials science, and manufacturing directly targeted to the needs of component manufacturers.
Like all of Kennametal´s Beyond line of products, Beyond Drive inserts feature a proprietary post-coat surface treatment that improves edge toughness, reliability, and depth-of-cut notch resistance, and a micro-polished surface to reduce friction and workpiece sticking (BUE).
A fine-grained alumina layer allows for increases in cutting speed, improving productivity and reliability at high cutting temperatures.
With Beyond Drive, adding a new titanium oxy-carbonitride outer coating (TiOCN) not only increases wear-and abrasion-resistance, its bronze color is also an effective wear indicator.
Depending on the application, field tests are showing anywhere between 30 percent and 125 percent more parts per edge.
All new Beyond inserts are CVD (chemical vapor deposition) coated, but whereas conventional CVD coatings are under tensile stress, Beyond inserts undergo a proprietary post-coat treatment on all surfaces to reduce this stress, which improves coating adhesion and reduces micro-chipping.
More uniform and reliable wear of the cutting edge results in improved and more consistent tool life.
"Together with the right geometry, we´ve seen big improvements in cutting performance and tool life in both internal and field tests," says Manuel Sedan, senior product manager, turning products, at Kennametal.
For example, in one test for a plant producing cast-iron transmission components, with no change in feed, spindle speed, or depth of cut, Beyond Drive completed 325 pieces per cutting edge compared to 200 pieces for the plant´s current inserts. Not only was this a phenomenal increase in parts per edge, projected machine hours freed per year totaled 125 while the number of inserts required per year dropped from 813 to 500.
"A stronger supply chain that gets more parts to the market reliably is the foundation of a healthy and growing manufacturing industry," Sedan adds. "Plus the days of one man-one machine are long in the past. With one operator running a cell or any number of machines, greater predictability and performance with tools is an increasingly crucial component for success. Beyond Drive is a truly exciting development that promises more pieces per shift, more efficient machine utilization, and long tool life."
Beyond Drive is available in eight grades and numerous insert styles, covering a complete range of applications for turning steel and cast iron components.
For more information, visit http://www.kennametal.com