Keep it under control with CGB
31-08-2010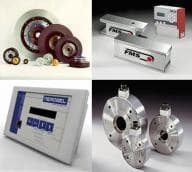 Fine Tension Control is essential in the wire, steel strip milling, paper, packaging, printing and converting industries. 
If you are looking to upgrade your current processes to open or closed loop automation then FMS & Merobel from CGB Precision Products offers a complete package.
FMS has a wide variety of force sensors and load cells to suit any application.
This includes:
Force Block Sensors
Force Measuring Bearings
Force Measuring Sensors for Live & Dead Shaft
Force Measuring Rollers & Journals
Force Amplifier & Controllers
Merobel are the leaders in rewind and unwind tension control, with a large range of EMP (Electro Magnetic Particle) brakes and clutches, diameter sensors and controller (DGT300).
CGB can work with you to develop the best solution for your company to help increase automation and tension sensitivity, resulting in better quality control and reduced costs. 
CGB Precision Products Pty Ltd
Ph: 03 9584 5311