Keep it clean with Tsubaki roller chains
31-08-2010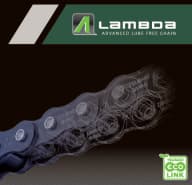 Tsubaki Lambda Lube-Free roller chains with oil impregnated sintered bushings dispense with the need to use external lubricant.
This means you can extend the wear-life of conveyor equipment dramatically. 
Lube-free conveyor chains also protect food products and packaging from marking and contamination.
And since food grade lubricant is expensive, it can also reduce day-to-day operating costs.
There are some obvious initial benefits to using lube-free or (internally lubricated) chain in packaging machinery. 
It will generally retrofit directly into standard ANSI, BS/DIN sizes and really does not require any externally applied lubrication. 
As a result of this technology wear tends to be minimal since the key components of the chain are lubricated thus reducing maintenance cost and downtime. 
Food production and packaging environments can now operate without the need for chain lubrication, even in some arduous wash down environments due to availability of optional anti-corrosion coatings.
Tsubaki Australia

02 9704 2500