Published 28-04-2020
| Article appears in April 2020 Issue
KEEP IT CLEAN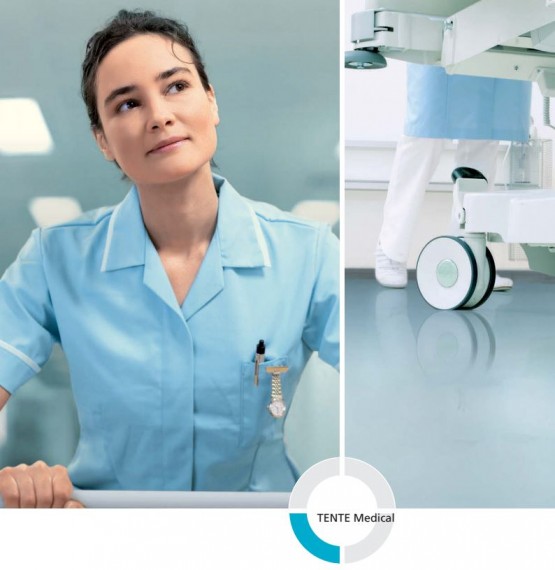 Now more than ever, cleanliness and hygiene are vital in industry.
Tente's expertise in smart mobility has made it a world leader in supplying casters and wheels for medical equipment such as hospital beds and devices.
"Worldwide we've had a huge increase in demand for our mobility solutions," says Tente's Australian general manager, Grant Smith. "Our production has been running 24/7 to keep up with demand."
He attributes much of that to the "pop-up" hospitals in the United States and Europe opened to cope with the sudden rise in COVID-19 patients.
Even in Australia, where the COVID-19 curve has been very effectively flattened, Tente has experiences a surge in demand for smart mobility. And Smith expects industry will need it more than ever as there is a renewed focus on hygiene in every industry.
Keeping things clean is a big job that requires not just scrupulous standards but smart mobility. The wheels and castors involved need to be able to withstand conditions that are common in manufacturing, including wet and humidity.
An intelligent mobility solution will improve not just hygiene and safety, it will companies save on time, effort, energy and operating costs. And it makes for happier employees.
Tente, established in 1923, is a trusted name in smart mobility. Based across five continents, it offers a wide range of mobility solutions that are perfectly adapted to the specific needs and operating conditions of places such as hospitals, restaurants, hotels and office buildings.
Whether for cleaning trolleys or air conditioning units, Tente's castors and wheels are long-lasting and low-maintenance. They are gentle on floors and easy to move, both over long distances and in confined spaces.
Ease of handling is a given, and so is improved traction on wet ground.
If your floor is sensitive, choose one of Tente's non-marking wheels with reduced abrasion. If your environment is humid, Tente offers rustproof models and hydrolysis-resistant materials.
You are also likely to need wheels and castors that won't be affected by cleaning agents and chemical substances, and that won't become discoloured, even after long periods of use? Tente can help there too.
Tente's Levina castor is particularly suited to the cleaning industry, highly resistant to chemicals and with soft wheels and shock-absorbing plastic housing to keep noise to a minimum.
Tente's Mono castor is particularly suited to cleaning places such as hospitals, with soft wheels that ensure smooth transport and great shock absorption and high resistance to many chemicals. All its metal components are available in stainless steel and therefore washable.
These are a small part of Tente's extensive range. Whatever your requirements, Tent's experts can advise you on the best mobility concept for your needs.
Tente's reliable locking devices are known for their easy handling. Safety is enhanced by features such as reliable locking devices and "dead man's brakes".
Moving heavy loads? Tente's electric drive (E-Drive) systems allow employees to effortlessly move a large volume of goods. The benefit to companies is improved productivity, happier employees, less sick leave, and lower operating costs.
The E-Drive flex system can be configured to suit companies' specific requirements.
Whatever your requirements, Tent's experts can advise you on the best mobility concept for your needs. Our intelligent mobility solutions help you save time, effort, energy, and operating expenses. And ensure greater safety. For more information, contact Tente and ask for its solutions catalogue or visit its website.