Keep intruders at bay with FLIR security cameras
31-08-2010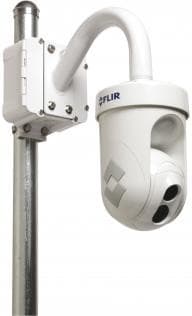 Top protection … FLIR's D-Series outdoor thermal security cameras
FLIR's D-Series outdoor thermal security cameras can detect intruders and other threats in total darkness and in bad weather – and it's all hidden behind a discrete dome-style enclosure. 
FLIR says its D-Series cameras are the perfect replacement for day/night dome cameras.
They provide clear 24/7 imaging capability and are now available with a lens range including the 640 x 480 thermal resolution for 4-times better image quality, range and clarity.
The cameras provide precision pan/tilt control while providing fully programmable scan patterns, radar slew-to-cue and slew-to-alarm functionality. 
Fully enabled for control and operation over digital and analog networks, D-Series systems deploy a 320 × 240 thermal imager along with a daylight/lowlight 36× zoom color CCD cameras.
Many security operations require thermal imaging cameras that can be seamlessly integrated into new or existing TCP/IP networks. 
The D-Series outdoor dome Multi-Sensor thermal imaging cameras are an answer to these demands.
FLIR SYSTEMS Australia Pty Ltd 
Ph: 1300 729 987