KANGAROO FLIES THE FLAG TO SUPPORT JUNIOR TENNIS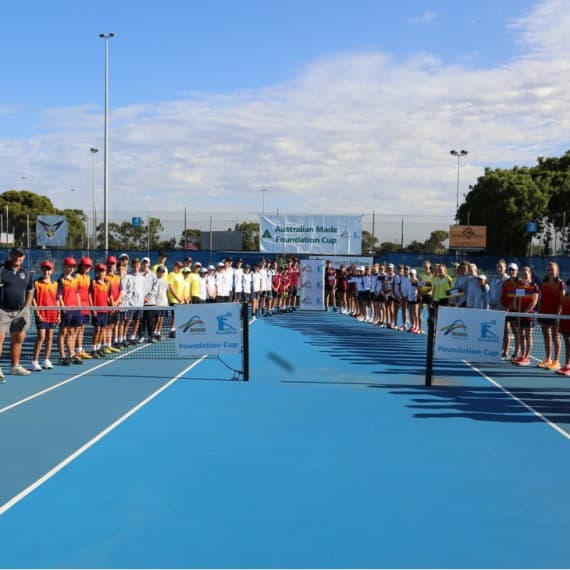 Australia's future stars of the tennis world are set for national exposure when they compete for the Red Energy Australian Made Foundation Cup in January 2019. The interstate tournament will offer children from rural and regional areas the chance to play during the 2019 Australian Open.
The Red Energy Australian Made Foundation Cup finals will be held at Kooyong Lawn Tennis Centre in Victoria from 14th to 17th January 2019. This is the seventh year that the Australian Made Campaign has supported the tornament, which forms part of the Australian Made Summer of Tennis, a programme that celebrates junior sporting achievements while promoting Australian products and produce.
According to Australian Made Campaign Chief Executive, Ben Lazzaro: "It's important that we continue to encourage and nurture local talent – whether that's our next crop of farmers, manufacturers or tennis stars. The Red Energy Australian Made Foundation Cup is just one way we can help to do that."
The best and fairest male and female players will each receive a $1000 cheque and the top state based team from the four-day tournament will be awarded the Red Energy Foundation Cup.
The Fed Cup Foundation has been instrumental in developing the tournament. "For almost 20 years the Australian Fed Cup Tennis Foundation has supported tennis players from small country towns throughout the country," says Fed Cup Foundation President, Judy Dalton, who will open the event on the 14th January. "We believe this event is vital to inspire young Australians to reach their potential both on and off the court."
Regional playoffs have already been held around Australia, with 28 of the nation's best young tennis players qualifying to represent their respective states at the championship.
Another feature of the Australian Made Summer of Tennis is a Breakfast with the Stars event set for the 15th January 2019 in the MCC Members Dining Room at the Melbourne Cricket Ground.