KAESER LAUNCHES NEW ELECTRIC PORTABLE COMPRESSOR RANGE
11-05-2016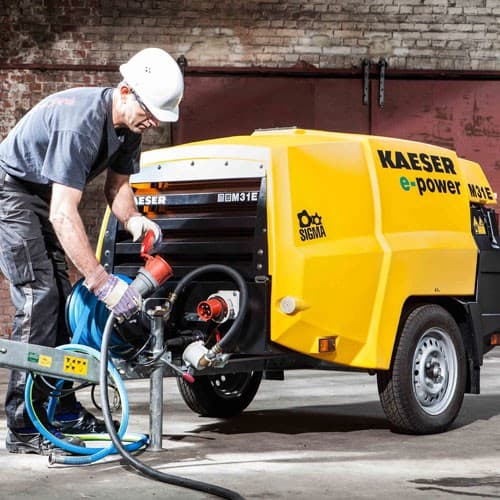 Kaeser has launched a new range of Mobilair electric portable compressors, delivering zero emissions and substantial savings in operating costs.
The new electric portable compressors are powered by motors rated at 15–25 kW, and form part of the highly successful family of Mobilair M27, M31 and M50 compressors.
From large building projects to city-centre sites or indoor operations – emission-free electric-powered portable compressors are exceptionally quiet and are significantly easier on the wallet than diesel units.
These machines are ideal for environmentally sensitive areas such as clean air zones or building sites near hospitals. They are also perfect for tunnel construction or as bridge compressors for industrial stations.
On large construction projects, where power hook-ups are usually available, the electric compressors make even more sense, as electricity is generally much cheaper than diesel fuel.
And electric compressors cost far less to maintain.
Power consumption is kept to a minimum thanks to the inclusion of IE3 premium efficiency motors, which meet the IP55 enclosure and Class F insulation standards, as well as comply with and exceed prevailing Australian GEMS regulations for 3 phase electric motors.
The Mobilair electric portable compressors are equipped as standard with the advanced Sigma Control Smart controller and Kaeser`s patented Anti-Frost Control. The Sigma Control Smart makes set-up and operation – such as pressure adjustments – quick and simple with an easy-to-read colour display and the Anti-Frost Control protects tools from frost and corrosion.
The models are available with a choice of a rotational moulded polyethylene or metal enclosure and in both road-going and stationary versions. Flow rates range between 2 and 5 m³/min for pressures from 7 to 14 bar.
Kaeser Compressors
Ph: 1800 640 611