KAESER BLOWER SYSTEM ASSISTS COLLIE WWTP IN WATER MANAGEMENT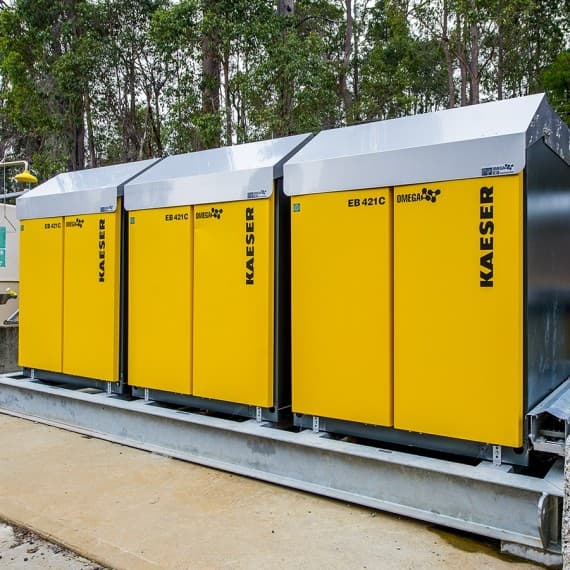 Wastewater must go through a range of different processes before it is processed and released back into the environment, and during this process, quality compressed air is required.
Three Kaeser EBC blower systems have recently been installed at the Water Corporation's Collie Wastewater Treatment Plant (WWTP) in order to meet the compression air requirements of an upgraded aeration system.
WWTP supplies water, wastewater and drainage services to thousands of homes and businesses in Western Australia.
The Kaeser blower system already powered the digestion processes the Collie plant, and local Kaeser Partner, Pneumatic Engineering was called upon to propose a new blower system upgrade for the aeration process.
Pneumatic Engineering recommended and subsequently supplied three Kaeser Compact EBC series blower systems.
The EBC models, a part of the Compact series have been designed to incur minimal operating and maintenance costs and to ensure maximum reliability.
Each blower is equipped with a high blower block featuring Omega Profile rotors and an IE3 electric motor to ensure maximum energy savings and outstanding system performance.
The Kaeser Compact series blower units are further delivered complete with an acoustic enclosure which has been designed to minimise noise emissions.
"The blower systems have been up and running for over 12 months. In that time they have proven to be exceptionally quiet in operation and very reliable in efficiently delivering compressed air as and when required." Said the Water Cooperation.
Mechanically tested in Germany, the Kaeser BB-FB series rotary blower packages, are available with free air deliveries from 1.5 to 74 m3/min, pressure up to 1000 mbar, and vacuum to 500 mbar.
Kaeser
1800 640 611