Published 02-04-2020
| Article appears in April 2020 Issue
K-Redi-Liner polyurethane protects equipment in fast, heavy-duty settings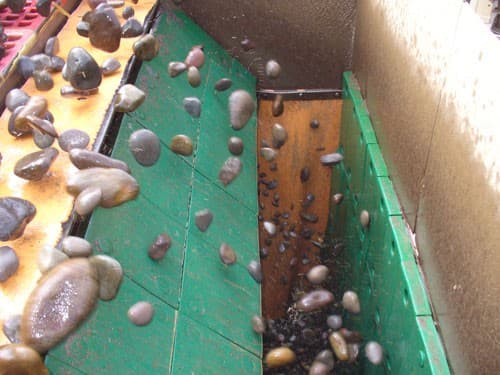 The K-Redi-Liner Polyurethane ensures that your equipment is protected when working with fast-moving heavy-hitting and material.
Kinder Australia kryptane engineered liner is well placed to provide a solid shield against wear and tear. It is appropriate for conveyor transfer points, screen discharge, feed liners, high wear chutes, hoppers and loading areas.
As an addition, the K-Redi-Liner Ceramic comes with alumina ceramic beads firmly embedded in the polyurethane.
Both boast a distinctive modular design. They feature a bolt system arrangeable into any required pattern - fitting into tighter and bespoke positions.
Saving time and money, the panels - 305mm by 305mm - are easy to replace individually: no need to replace an whole liner. They are much lighter than traditional steel, reducing workplace hazards during installation.
The K-Redi-Liner Polyurethane and K-Redi-Liner Ceramic both come in various hardness durometers and formulas to suit a variety of uses.
K-Redi-Liner Polyurethane panels come in thicknesses of 25mm, 38mm, 50mm and 63mm, whereas the K-Redi-Liner Ceramic panels come in thicknesses of 50mm and 63mm. Two sizes of fastening bolts are available: ½ and ¾ inches.
K-Redi-Liner polyurethane is available with fire retardant, fire resistant and anti-static formulated options. 
For more information visit www.kinder.com.au or contact conveyorsolutions@kinder.com.au.