Kärcher vacuums: professional way to clean
31-08-2010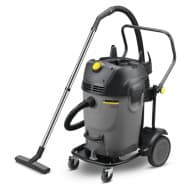 Whether you're cleaning up a mess at the office or dust around a construction site there is no piece of equipment more durable than a Kärcher wet and dry vacuum.
The same goes for a factory floor, garage and any other professional environment. 
Kärcher has been a leader in cleaning equipment for the past 60 years, with a reputation for quality and efficiency.
The Kärcher wet and dry vacuum range is one of the most versatile ranges available.
It is ideal for picking up wet dirt and liquids as well as fine and hazardous dust.
The range extends from universal vacuum cleaners, to vacuum cleaners for large quantities of fine dust, as well as safety vacuum cleaners for health-endangering and explosive dusts, with a wide range of accessories to suit any situation.
There are also tailor-made solutions for specific target groups, such as vacuum cleaners for bakeries, fire services, tradesmen or construction sites.
Every experienced user knows that pure suction power alone says nothing about the real performance capability. 
Pivotal is the overall design including all filters and controls, ergonomics, stability and optimal accessories. 
For decades, Kärcher has been setting standards with innovative technologies and developments in the cleaning industry.
The entire range is highly mobile and come with an automatic filter cleaning system. They are also able to distinguish between types of messes, able to continuously operate regardless of cleaning indoors or outdoors, dry, damp or liquid.
These multi-functional pieces of equipment make for extremely versatile products across professional fields such as retail, automotive, industry, construction and contract cleaning.