Kärcher unveils more cleaning muscle
31-08-2010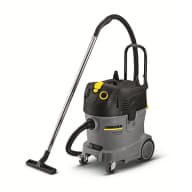 Kärcher, a world leader in cleaning technology, has launched the next generation of its popular wet/dry vacuum cleaners.
Specially tailored for use at construction sites, the NT 40/1 Tact Te is the ideal solution for the demanding customer with a high frequency of cleaning.
The NT 40/1 Tact Te combines practicality with expert execution. Incorporating new and rugged steel castors, this model features a massive bumper to protect the wheels from impacts.
Also, a convenient floor tool fixation has been integrated enabling the Tact system to withstand tough conditions. The model is equipped with an automatic start/stop enabling comfortable operation with electric power tools.   
The unit features Kärcher proven auto filter clean technology TACT as well as a larger, sturdy container.
It is well suited for high-volume tasks – indoors or outdoors – for dry, damp or liquids.
A highlight is the unique ergonomic push bar and integrated handles around the device, enabling the Tact system to be moved, lifted and easily driven to the job site.
Kärcher's NT 40/1 Tact Te comes at a competitive price offering outstanding value for money.