KÄRCHER STEAM CLEANER FOR STUBBORN GRIME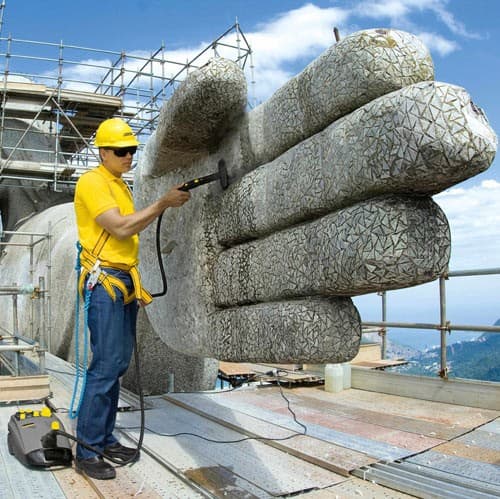 Steam cleaning is, without doubt, the most underrated cleaning method in the professional maintenance world.
Offering a combination of delicacy and effectiveness, Kärcher Professional's DE 4002 is the best tool to thoroughly clean stubborn grime out of areas requiring a greater level of finesse than usual.
The DE 4002 has been designed with all the efficiency and practicality required in a professional setting.
The unit's boiler can be continuously replenished by an additional water tank, allowing extended operation on longer jobs.
A total of 4.6 litres in the boiler and supply tank will produce approximately 6000 litres of steam, which equates to an astonishing five hours of uninterrupted work.
And because the supply tank is not directly under pressure, it can be refilled without waiting for the unit to cool.
Steam Cleaning is completely chemical free, making the DE 4002 an environmentally friendly option for cleaning professional kitchens, floors, building exteriors, and outdoor furniture.
However, crossing a multitude of terrains can sometimes cause concern for user safety.
The DE 4002 is housed in a splash proof casing, and features a low voltage 12V handle.
The handle is also touch sensitive, meaning it will automatically shut down as soon as the operator isn't holding it.
A 2.7m steam hose allows for greater lateral and overhead operation without having to lift the unit.
DE 4002 is mounted on a smooth double caster and two sturdy rear wheels, making transport clean and simple.
Kärcher
Ph: 1800 5272437 (KARCHER)