Kärcher clients benefit from new rebate program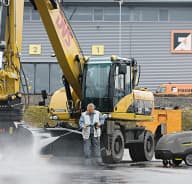 For small businesses, high-end pressure cleaners can be a costly capital expense.
But now under the Living Victoria Water Rebate Program, Victorian businesses with 50 or less employees can claim up to $2000 back on their Kärcher pressure cleaners.
A high caliber and effective pressure cleaner is a necessity for a wide range of industries, required for customer presentation in regards to safety and hygiene.
Kärcher is an industry leader for commercial pressure cleaners, offering everything from heavy-duty hot or cold units to compact mobile upright high-pressure cleaners.
High-level equipment is an essential part of maintaining hygiene standards, but the expense can often mean an unwanted compromise.
With the Water Rebate Program, Victorian businesses can now afford the highest quality pressure cleaners from Kärcher.
Andrew Callinan, Karcher Professional Business Manager, said many businesses are unaware of such rebate programs that can make commercial equipment more affordable.
"With the ever-changing state and federal legislation and lack of promotion of these incentives it's always important to do your research, he said.
"Pressure cleaners are essential for many small businesses and this initiative ensures they can afford the best."