Kärcher centres open for business in Australia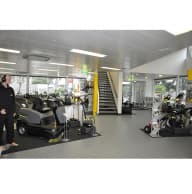 Globally, the name Kärcher is synonymous with consistency, reliability and quality.
The new "Kärcher Centres" are yet another example of these qualities, representative of their range and expertise.
Karcher are opening a number of these centres Australia wide to provide current and future users the opportunity to view and trial the entire Kärcher range.
Both the Home & Garden and Professional range are on display, giving a complete overview of everything Kärcher has to offer.
For nearly 80 years Kärcher has been a household name in cleaning.
Its diversified product range covers every facet of the domestic and professional cleaning market.
Over the years Kärcher's engineers have developed products and advanced cleaning systems for industry, covering all requirements.
As a total cleaning solution provider, Kärcher can provide the single unit as well as specific complete solutions for floors, walls and ceilings as well as machines, tools and vehicles.
With top of the line service and impeccable knowledge, the experienced Kärcher Centre teams are equipped to provide expert advice.
They can advise on what products suit your cleaning needs and organise demonstrations and test-drives, to demonstrate Kärcher's superior quality.
These Centres have had an international presence for years, offering the highest quality service throughout Europe, Asia, the Middle East and the Americas. There are now Kärcher Centres in locations throughout Australia.
Andrew Callinan, Professional Business Manager for Kärcher Australia, says the Centres are another example of Kärcher innovation.
"The Centres give us the unique opportunity to showcase everything that we have to offer," Mr Callinan said.
"There is a Kärcher product for every cleaning application, whether for the work site, office or home. Now we are able to showcase them all in one place."
Mr Callinan says the new centres represent Kärcher's commitment to its customers.
"We are dedicated to bringing a more unique, in-depth and friendly experience to buying your next piece of cleaning equipment."
There are Kärcher Centres currently open in Brisbane, Adelaide, Perth, the Gold Coast. More stores are soon to open in Sydney, Newcastle and Melbourne.