JOINT RESEARCH CENTRES TO STRENGTHEN SCIENCE LINKS WITH CHINA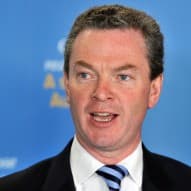 The federal government has allocated nearly $6m for research centres aimed at forging stronger innovation and science links with China.
Industry Minister Christopher Pyne said the research centres would help to address challenges faced by the two countries in the marine science, food and agribusiness, and mining equipment technology and services sectors.
Mr Pyne said six new Joint Research Centres would be funded for three years under the Australia-China Science and Research Fund (ACSRF).
"These grants, totalling $5.95 million, support the objectives of the National Innovation and Science Agenda, and help Australian research institutions build links with China – a growing science power and important collaborative partner for Australia in science and research," Mr Pyne said.
"This will build Australia's research capacity, forge strategic alliances and increase commercialisation and application of research outcomes, boosting innovation and international competitiveness."
The new Joint Research Centres grant winners are:
· Monash University and Soochow University researching dairy industry manufacturing process efficiencies and new high-value products.
· University of Adelaide and the Shanghai Jiao Tong University developing new cereal grains with long term health benefits.
· University of Melbourne and Chinese Agricultural University investigating healthy soils for sustainable food production.
· Swinburne University of Technology and First Institute of Oceanography of the State Oceanic Administrations developing a new generation of models to forecast and describe ocean and wave climatology.
· Australian Institute of Marine Science and Institute of Oceanology, Chinese Academy of Science exploring the translation of data into management solutions for coastal pollution and ecosystem safety.
· University of South Australia and Central South University developing in-line chemical and mineral sensing for sustainable mineral processing.
Joint Research Centres will also receive co-investment from the Chinese government through the partnering Chinese institution.
For further information: www.science.gov.au/acsrf.