Published 15-08-2019
| Article appears in August 2019 Issue
JOB MANAGEMENT SOFTWARE KEEPS SERVICES RUNNING SMOOTHLY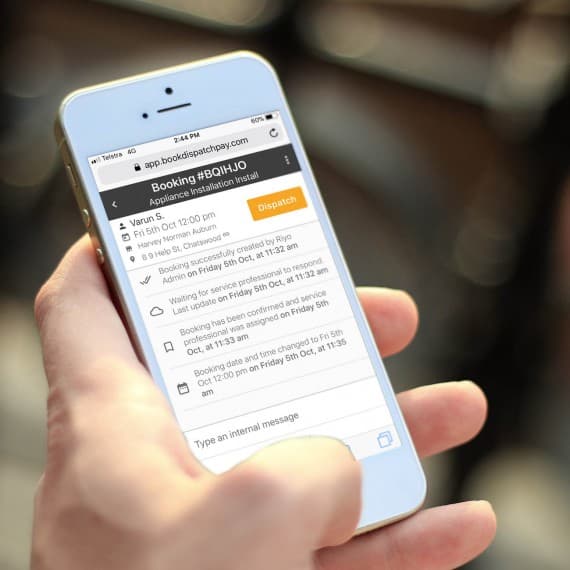 With after-sales service increasingly viewed as a key element in the manufacturing lifecycle, manufacturers are finding that managing the service function can present something of a headache or bottleneck. Attempting to run a service operation by traditional methods can be a time-consuming and inefficient process.
One solution to this management dilemma comes in the form of Riyo, a made-for-mobile job management software suite developed by Sydney-based JCurve Solutions (ASX: JCS).
The claims are impressive: the easy-to-use software is said to offer instant scalability that responds to seasonal, industry and unexpected demand changes. And, not only is Riyo claimed to improve the customer experience, it offers companies the chance to increase revenue through upsell opportunities from existing service jobs.
So, why is this revolutionary?
Interestingly, Riyo was designed from the ground up to be easy to adopt. Described as "a mobile app without the app", the software is entirely web browser based and created with mobile in mind – so it will run on any device that you care to name. And, because it's a cloud-based solution, there are no requirements for local storage.
And now, with almost 12 months of deployment in the field, JCS is finding that the software can make a real difference to industrial suppliers and equipment manufacturers, with pump companies and commercial kitchen equipment suppliers among those to reap the benefits.
And first among those benefits is productivity.
"Ultimately," says JCS Business Development Manager Pat Turner, "it's about getting more jobs into a day." And key to that is getting rid of the manual processes.
It goes without saying that the days of the illegibly hand-written job sheets are gone. Instead, Riyo offers fully customisable forms that companies can adapt to their exact requirements.
Turner parallels the Riyo approach to the disruption brought to the taxi market by Uber. And many of the customer-facing aspects of the system do mirror the ride-sharing platform, starting with the customer version of the app.
So, just as an Uber customer waiting for a ride can see where their driver is in real time, a customer can use Riyo to see exactly where their service tech is, and when they are likely to arrive – again in real time. Compare that to the traditional "old-school taxi" style of interaction where the customer has traditionally been given a timeslot along the lines of "between 2pm and 4.30pm", and it becomes apparent that Riyo is as much about customer satisfaction as it is about workforce management.
Giving the customer an accessible, easy-to-use app is the key to this engagement.
However, it goes way beyond that by including secure payment facilities in the package itself, making a significant improvement to cashflow for service operations that are working on ad-hoc or non-contracted jobs.
In all, Riyo provides a single application that not only manages job bookings, it manages the resources for those jobs. This enables service operations to scale their businesses in line with demand.
One important factor in the all-encompassing aspect of Riyo is that – like JCS' ERP business management solutions – it is entirely cloud based. And that has the added advantage of allowing the integration of the two software offerings, bringing enterprise resource management and job management together, leveraging the same cloud-based database.
And for those that might be wary of trusting important corporate data to an unknown entity Riyo uses the Google Cloud Platform, with all the security that entails.
Riyo
1800 528 783
www.riyo.io