JLG UNVEILS WORLD'S TALLEST SELF-PROPELLED BOOM LIFT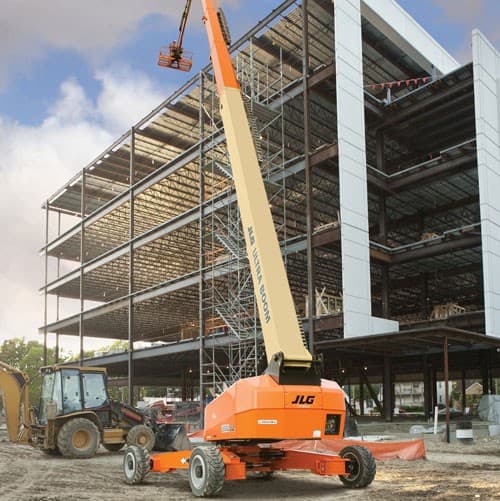 JLG Industries' new 1850SJ Ultra Boom has arrived Down Under and is set to take versatility and performance to dizzying new heights.
After its launch in North America and Europe in February, the JLG 1850SJ Ultra Boom has stolen the crown of world's tallest self-propelled telescopic boom lift.
The JLG 1850SJ Ultra Boom is engineered to deliver an unmatched working height of 58m and an unequalled work envelope of over 84,950m³.
This latest innovation in JLG's line of Ultra Series boom lifts reaches more applications at unprecedented heights and moves aerial work applications into areas previously reserved for truck-mounted booms.
The Ultra Boom is the result of JLG's response to customer feedback, which identified the need for a taller boom that could work on a wider variety of jobs in a broad array of conditions.
JLG's 1850SJ Ultra Boom combines valuable extra reach with easy transport and maintenance to deliver the ultimate in ready access.
"Since the 1850SJ Ultra Boom's launch in early 2014 users have recognised the flexibility this machine gives them for solving access challenges and how well it rounds out the JLG boom lift offering," JLG Australia & NZ Product Manager, Arron Cooper, explained.
"While the 1850SJ provides 10.6m of additional vertical reach and substantially more work envelope than the 1500SJ Ultra Boom, which has 45.7m of vertical lift, it doesn't replace it; together, our 1850SJ, 1500SJ and 1350SJP booms give users the flexibility to choose exactly the right boom lift to meet the needs of specific applications."
With a five-section telescopic boom that extends to full height in less than five minutes and swings 360˚, plus a jib that achieves lengths between 3.96m and 6.1m with an articulation range of 120˚, the JLG 1850SJ Ultra Boom achieves a horizontal reach of 24.38m.
Also, the telescopic jib can extend and retract to deliver an up-and-over capability and telescope into structures with remarkable precision and agility.
This makes it invaluable in a variety of applications where workers need to be repositioned at height – without the need to reposition the machine.
"The huge work envelope, which above 45m is far greater than any other self-propelled boom, means users can reduce the number of times they must reposition the machine while working on a task at the high end of the reach," Mr Cooper said.
"The other big advantage is the horizontal reach the boom provides – it's unmatched in the industry and it allows operators to work around obstacles more easily."
However, when it does come to moving the JLG 1850SJ Ultra Boom, JLG's design has made that easy also.
Powered by a 99.8 hp turbo diesel engine, the 1850SJ offers three selectable steering modes including four-wheel steer, and standard four-wheel drive, for easy on site manouevrability.
And when it's time to hit the road, transportation is far easier, less time consuming and less costly with the JLG 1850SJ Ultra Boom. Ready for transport in a couple of minutes thanks to retractable  axles, the 1850SJ's compact design allows it to be transported on a quad axle float without the need for an overweight permit or complex oversize load logistics.
"The 1850SJ Ultra Boom ticks all the boxes for performance, efficiency and versatility and will be invaluable for high level aerial work on a diverse range of projects and tasks in civil and commercial construction, ports and container facilities, building maintenance, refineries and churches," Mr Cooper said.
JLG Australia
Ph: 131 554