Jlg Unveils New Australian-Made Lt³ Lighting Tower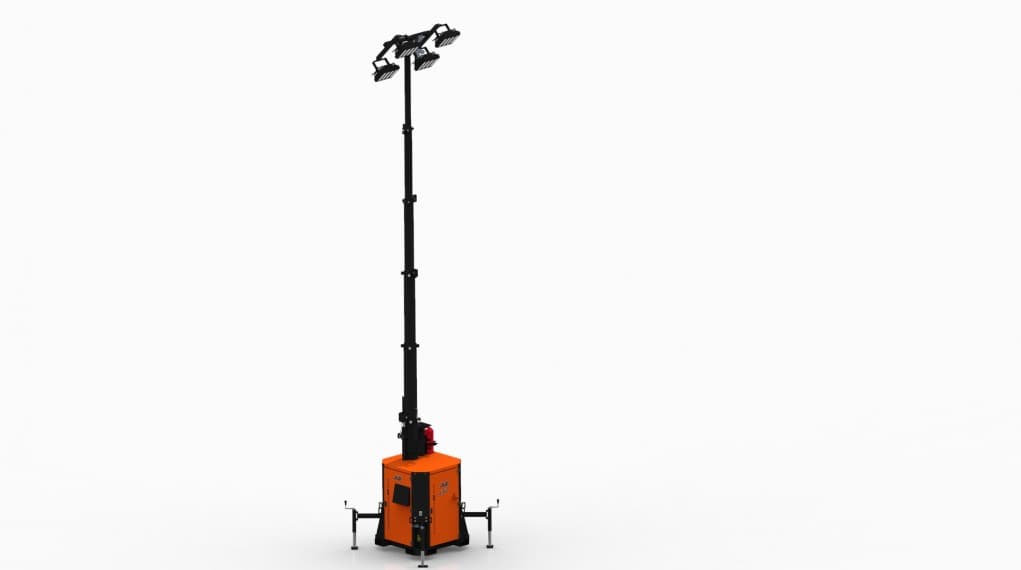 JLG ANZ has expanded its range of locally developed and manufactured lighting towers, with the launch of the exciting new LT³ skid-mounted model.
Made at JLG's Port Macquarie manufacturing and technology hub, the LT³ Lighting Tower offers many benefits for users including superior light output, low noise operation and impressive fuel efficiency. Featuring high output 300W L.E.D light heads, the LT³ offers a high-quality white light to safely illuminate the worksite, while thoughtful design allows the new model to be easily set-up by a single person. The tower's clean and compact dimensions (stowed width of just 1.18 x 1.18m) also allows for convenient side by side loading, making these lights easier to transport to jobs sites in bulk.
Loading and unloading is also aided by the unit's forklift tyne pockets and crane lifting points. Power for the LT³ comes courtesy of a modern Kubota engine that meets stringent 'Tier 4 Final' standards; as well as its low emission performance, the engine is extremely quiet (<60 dB(A) at seven metres) and is extremely frugal, offering over 245 hours of operation from its standard 172 litre tank.
For improved productivity, the LT³ Lighting Tower has a generous wind rating, allowing its 8.3 metre hydraulic mast to remain at full height in up to 80 kilometre per hour winds while a long 1000-hour engine oil servicing interval will keep these lights operating for longer.
Considerable thought has also been given to the model's ease of operation and maintenance. The LT³ is equipped with an external emergency stop, high engine temperature cut-out, and simple-to-use long extension wind-down outriggers.
A 48V 'extra low voltage' electrical system further assists longevity. Other standard features include bunding for all fluids, electronic module including auto stop / start and advanced engine management with individual light switch, 340° rotation of light head, 50° light tilt, lockable battery isolator, level indicator bubble and low fuel warning.
These units can be further specified. Options include 360° electric rotate, fire extinguisher, double pole battery isolator, starter motor isolator, Anderson jump start receptacle, beacon, reflective tape, customized paint, exhaust heat wrap and MDG-15 spec. The LT³ Lighting Tower is covered by JLG's comprehensive '1 & 5' Warranty, comprising one full year of complete coverage supported by a further five years' coverage of all specified major structural components.
For more information, call 131JLG