Materials Handling & Equipment
Published 28-03-2019
| Article appears in April 2019 Issue
JAPANESE MATERIALS HANDLING LEADER CONFIRMS EXCLUSIVE DEAL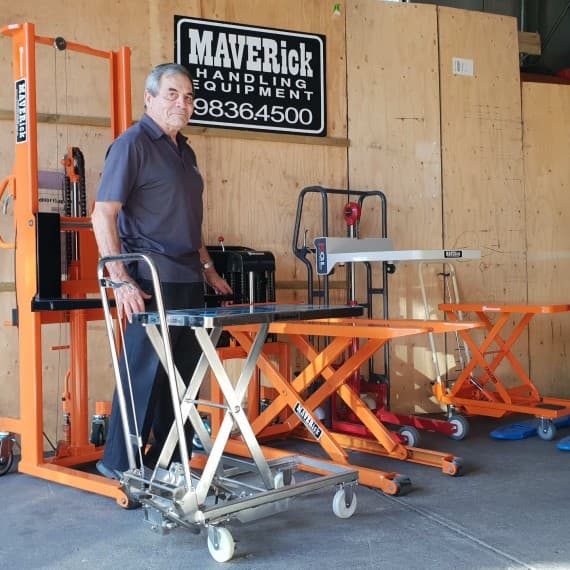 Greig Maver takes stock of the Bishamon Japan range
Melbourne-based Maverick Equipment is celebrating 35 years of continuing success representing the Bishamon Japan product range in Australia with a renewed exclusive distribution agreement with Bishamon parent company Sugiyasu Corp.
The deal confirms Maverick as the exclusive source for Bishamon Japan products in Australia.
The Bishamon Japan range of materials handling equipment includes fixed and mobile lift tables, skid lifters, scissor lift tables and scissor lift trollies, all designed and manufactured to exacting Japanese quality standards.
The company's commitment to research and development has seen the range evolve to meet modern materials handling challenges, including a stainless-steel range for clean-room environments.
Maverick has been handling the Bishamon Japan range since 1985, and has had notable successes in industries from manufacturing and medical to food processing and hospitality.
According to Maverick Equipment boss Greig Maver, "We're delighted to receive this formal recognition from Sugiyasu Corporation. The quality, performance and all-round value for money of the Bishamon Japan materials handling range makes this equipment ideal for the Australian market."
"In a market flooded with low-cost low-quality copycat imports, the reputation of the Bishamon Japan brand makes it stand out from the crowd," he added.
Yoshinari Nakayama, Area Manager for International Operations at Sugiyasu Corp congratulated the Maverick Equipment team, saying that Sugiyasu appreciated the effort Maverick had made in the Australian market and affirming that his company would continue to support Maverick for the foreseeable future.
MAVERick Equipment
1800 500 411
www.maverickequipment.com.au