Japan car makers going green
20-09-2013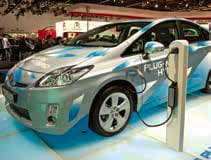 Four of Japan's leading manufacturers – Toyota, Nissan, Honda and Mitsubishi – plan to expand sales of next generation green vehicles by cooperating on thedevelopment of electric charging stations.
They say there is a critical need to develop infrastructure in Japan for vehicles that can be charged from a power point, such as plug-in hybrids and electric cars.
The car makers said they will work with the Japanese Government to more than double the number of charging outlets to at least 4,000 quick chargers and 8,000 regular chargers.
The manufacturers will temporarily bear part of the installation and maintenance costs that are not covered by government subsidies of 100.5 billion yen ($1.1 billion) announced for 2013-14.
They said an expanded charging network would maximise the electric only driving performance and combined fuel economy of plug-in hybrids.
It would also enable motorists to extend the driving range of electric vehicles, which do not produce any tailpipe emissions.
Normal chargers would be installed in commercial facilities, such as large shopping malls or highway service areas where motorists typically stopped for long periods.
Quick chargers would be installed for shorter duration stops at highway parking areas, convenience stores and fuel stations.
The Japanese government wants sales of next generation cars accounting for 15 to 20 percent of new-car sales by 2020.