JACK-UP SYSTEMS PROVIDE PRECISION LIFTS IN SAFETY
03-07-2017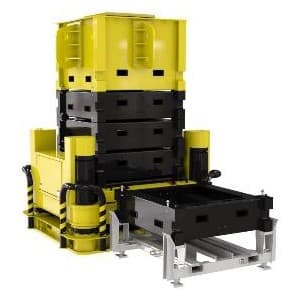 Enerpac's computer-controlled JS500 Series multipoint incremental jack-up system provides safety and control in demanding lifting and lowering applications. Jack-up systems are ideal for lifting or lowering heavy machinery or structures, because they allow precision control while keeping the area uncluttered and safe.
A typical 2000-tonne JS set-up would use four 500-tonne capacity incremental lifting towers (one at each corner of the load) each with a maximum tower height of up to 10 meters.
The JS system software provides automatic synchronisation of multiple networked lift points, with step-by-step operator interaction in auto-mode. The software is preprogrammed with emergency alarms that automatically stop lift-based parameters such as load and stroke on each tower and the entire system.
Importantly, no personnel are required to be under or close to the load during lifting and lowering operations, allowing all workers to stay clear of potential drop zones.
Each JS500 jack-up unit contains four hydraulic cylinders – one in each of its corners. The cylinders lift towers of modular steel boxes, and in turn lift the loads placed on top of these boxes.
During lifting operations, once a hydraulic cylinder has lifted the load sufficiently, a new modular steel box is precisely inserted into the system by an automated box insertion system. Then, the load is lowered onto the waiting steel box and supported.
All through the operation, the synchronous computer technology maintains the balance of the load, allowing the lifting and lowering to occur simultaneously.
Enerpac Australia
02 8717 7200
www.enerpac.com