ITALIAN COOKBOOK WITH AN AUSSIE FLAVOUR
27-11-2014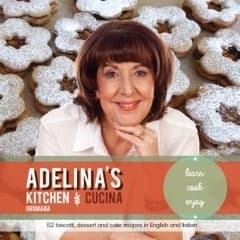 A new Italian cookbook was launched recently with every part of the publishing process taking place in Australia.
Even an Australia Post franchise was used when buying mailbags and for posting facilities.
Written and photographed in Dromana, Victoria, the cookbook is the first by acclaimed chef Adelina Fiorito Pulford.
Pre-production took place in Adelaide, portrait photographs were shot in a Melbourne bayside studio and the book was printed in Dromana.
Adelina is a qualified Chef who runs popular Italian cooking classes at Victoria's Mornington Peninsula.
She has a huge Facebook following (almost 5000) in 46 countries and it was following requests from her Facebook followers to produce a cookbook that she wrote Adelina's Kitchen Dromana.
The book is a collection of 52 biscotti, dessert and cake recipes that Adelina has been working on for some years using wherever possible local produces from easily accessible sources.
Each dish was prepared and photographed by Adelina.
The recipes are written in both English and Italian to cater for the majority of her followers. Adelina is fluent in Italian having been born there and leaving Italy for Australia aged 15.
Adelina had a budget of $15,000 and was determined to spend the money in Australia – particularly in her local area, Dromana.
The cover portrait photo was shot by a local photographer, Say Heidi Photography.
Dromana Printing & Stationery, Dromana did the printing. The company employs six people from the local area and Adelina's philosophy of keeping "Australian business in business" was achieved.