ITALIAN BOLLARDS AND BARRIERS MAKE A HIT IN AUSTRALIA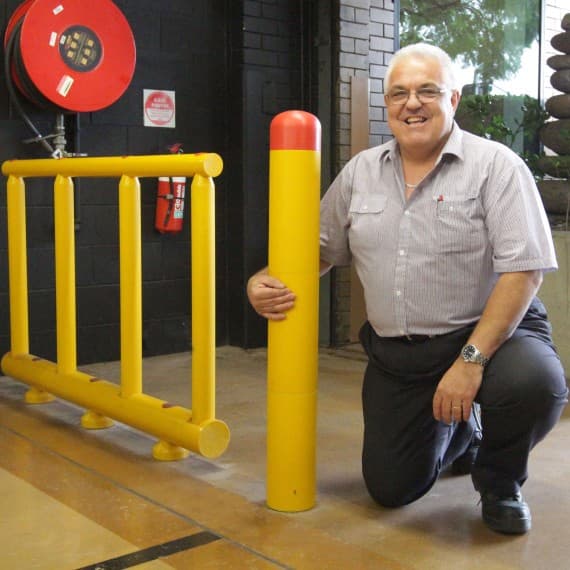 Arthur Seiler leads Stommpy in Australia
Italian impact safety systems specialist Stommpy has made a strong debut in the Australian market with safety systems already installed in facilities across Queensland and Victoria. Stommpy has a long record in providing bollards and barriers for facilities across Europe, UK and USA, particularly in food and beverage, large-scale retail, pharmaceuticals and hospital, automotive, logistics and transport.
Arthur Seiler leads Stommpy in Australia. He says: "Being a project manager, I always have safety at the forefront of my mind. To be able to provide a solution to the Australian market that is not only superior in technological advancements but that will make a difference to the safety of any facility brings me great pride."
"I'm also aware that any replacements required due to defined impacts, won't damage the concrete and makes for a much easier repair than other options. Stommpy is thorough in their testing efforts and I get a kick out of watching the thrilling test videos!"
There has been a strong uptake of bollard and barrier installations in hygiene-critical applications, such as food processing facilities. Stommpy barriers and bollards comply with hygienic food safety standards, and the materials used do not emit toxic gases in case of fire.
"We are delighted to say that it has been a very successful year for Stommpy," said Marco Charini, General Manager of Stommpy in Italy. "We have opened offices in Poland and Germany and it makes us particularly satisfied that the International team is growing and gaining strength."
"The Australian team has started just recently, and we are so excited to be able to bring Stommpy products to Australia! Moreover, they have already created their own network of reliable distributors."
Stommpy
1800 870 405
stommpy.com.au