It pays to service your air compressor
31-08-2010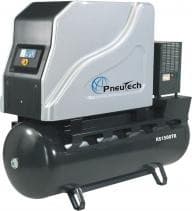 Air compressors are often left to operate inside or outside at the back of factories without periodic service and maintenance checks. 
This can result in the failure of the compressor without warning leading to factory downtime and loss of output.
In the long run, an air compressor preventive maintenance program may well save money by eliminating compressor failure due to a lack of maintenance. It also provides early warning when a compressor is approaching the end of its service life.
With regular visits from a specialist compressed air mechanic, factory compressed air systems can be checked at the same time. Equipment and pipe systems can be either serviced or reported on as needing service.
Also, it is reassuring for the business owner to know that someone outside of his organization is familiar with the compressed air system. This means they can respond quickly with back-up equipment if required.
Industrial Air Tools (IAT) offers a maintenance and repair service for most brands of air compressors and also carries stocks of new and used industrial models for sale or rental.
Industrial Air Tools
Ph: 1300 13 32 35