Is it the end of the road for auto industry subsidies?
31-08-2010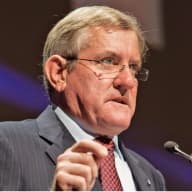 The federal government is considering giving GM Holden a "blood transfusion" of funding before the end of the year in the absence of a long-term industry plan.
Mr Macfarlane met last week with Holden general manager Mike Devereux at the company's manufacturing plant in Adelaide to begin talks on assistance under a Coalition government.
He warned that Holden must brace for an end to taxpayer assistance.
Holden is seeking a new taxpayer-funded subsidy to support a $1 billion investment in two new vehicle models at the plant, in addition to $275m committed last year.
Mr Macfarlane prefaced talks by warning "there is not a lot of money" on offer, and said that if Cabinet approved extra financial assistance for the carmaker, it would be the last hand-out on his government's watch.
"I want to say to the industry, there will be one shot at this," he said. "We can't go on supporting this industry."
Mr Macfarlane says Holden must increase its exports if it wants to secure more long-term government assistance.
"They have got to become internationally competitive."
To be sustainable, the company would have to lift exports from the current level of 17 per cent to 30 per cent, Mr Macfarlane said.
But the opposition and the unions claim that such an increase is unrealistic.
Industry Shadow Minister Kim Carr says without a drop in the dollar such an increase is not possible.
It is understood the government is close to finalising the terms of references for a Productivity Commission inquiry into Australia's car manufacturing industry.
An interim report is expected before the new year.