IT'S TIME TO GET SERIOUS ABOUT HEIGHT SAFETY
20-11-2015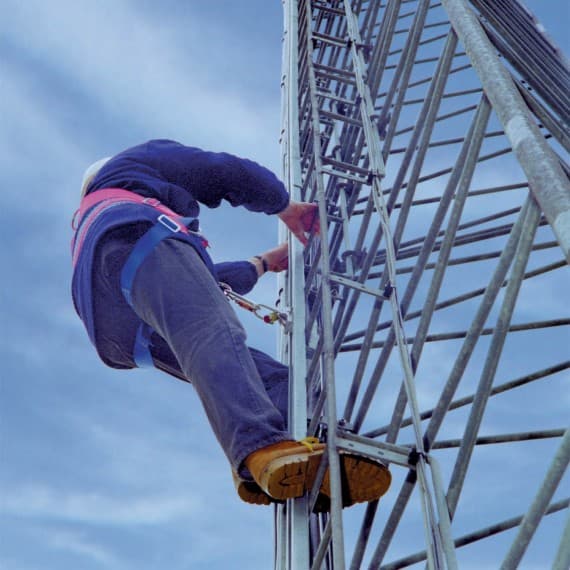 In 2010-11, 7,730 workers in Australia were seriously injured after falling from height.
That's an average of 21 workers per day during that period.
Tragically, 29 people died in this period as a result of a fall from height at work.
If we are to reduce these alarming statistics, employers must foster a culture of safety wherein the proper use of standards-approved personal protective equipment (PPE) is imposed.
Familiarity with the relevant Australian or international standards will be the first step towards ensuring that adequate and appropriate PPE is being used in the workplace.
Using PPE in a workplace that is standards-compliant is crucial for the safety of both workers and bystanders.
The Australian and New Zealand Standard (AS/NZS) is developed by Standards Australia in conjunction with representatives from industry, government, the public, and academia. These standards are not inherently mandatory, but because of their rigour and level of technical detail, they will often be referenced in statutes passed by Parliament, at which point they will often become compulsory to follow.
Similar bodies in Europe develop the EN standard, and the American National Standards Institute develops ANSI standard in the US.
The purpose of standards for PPE is to set out in writing minimum requirements for a safety product, allowing businesses, safety managers, and workers to be confident that they are using the correct equipment for the task they are performing. The following standards are relevant for various applications relating to fall protection:
§  AS/NZS 1891.1 2007 ­– for harnesses and ancillary equipment, such as the AirCore and Revolution harnesses.
§  AS/NZS 1891.3 1997 ­– for fall arrest devices such as the TurboLite and Falcon.
§  AS 1657 2013 - for fixed platforms, walkways, stairways and ladders. Design, construction and installation.
§  AS/NZS 5532 2013 - Manufacturing requirements for single-point anchor devices used for harness based work at height
§  AS/NZS 1891.4 2009 – for selecting, using, and maintaining industrial fall arrest systems: this standard provides guidance in developing a risk assessment program for working at height.
§  AS/NZS 4488 ­– for industrial rope access systems.
Honeywell Safety Products actively participates in shaping the Australian Standards for PPE, granting our representatives an unparalleled insight into the correct application of these standards. Anyone can obtain a copy of these Australian Standards online from SAI Global, the Australian distributor of the Australian Standards, at http://www.saiglobal.com/Information/Standards/.
How are products tested for compliance with standards?
Miller by Honeywell harnesses and lanyards are manufactured in Victoria, and are independently certified for compliance with AS/NZS 1891.1 2007 by SAI Global through a rigorous testing process.
PPE from Honeywell Safety Products is manufactured in accordance with the ISO 9001 international standards for quality management systems to ensure consistency in delivering a quality and standards-compliant product.
There are a number of important characteristics that are tested as part of standards compliance certification for fall protection equipment. The maximum allowable free fall before PPE safely arrests a person's fall is 2m.
Fall clearances must be appropriate, per the requirements set out in AS/NZS 1891.4 2009, for the particular work application and working environment so that workers will not strike a lower obstacle and will be able to be rescued or lowered to safety quickly in the event of a fall.
What are the recommended checks for fall protection equipment?
Standards-compliant PPE are designed to function correctly within their operating specifications when undamaged. If sufficient care is not taken to check and maintain fall protection products, they may not operate adequately, which could result in serious consequences. All inspections of fall protection equipment should be carried out with reference to AS/NZS 1891.4 2009.
Here are some basic checks that Honeywell Safety Products recommends that workers should carry out before every fall protection PPE use:
§  Firstly, ensure that all labels, serial numbers, and inspection and withdrawal dates are visible, and that the PPE is currently suitable for use. It is also important to check that the standards compliance mark is present.
§  Then, check for physical damage to the harness and lanyard webbing. PPE that may have been exposed to corrosive materials, excessive heat, or hardware damage, could render them unfit for use.
§  Next, make sure that ropes and webbing are not frayed or cut. It is vital that damaged webbing and ropes are removed from service and destroyed. Harness and lanyard hardware such as snap hooks and d-rings should also be checked to ensure they are not deformed or corroded. If hardware is worn, it should be immediately replaced.
§  Finally, inspect the sewing patterns for breakage and wear. If unauthorised repairs have been made, the equipment should be immediately removed from service.
Once PPE has passed this brief inspection, it is likely ready for use within the parameters of the relevant Australian Standard.
Why is standards compliance so important?
Correct usage of Standards-compliant safety equipment is necessary to ensure that workers are adequately protected.
Reputable suppliers of PPE, such as Honeywell Safety Products, will provide a full range of standards-compliant fall protection products, so that employers and safety managers can be assured that workers are protected at height with PPE suitable for the job. The consequences of using inadequate and non-standards compliant PPE can be tragic.
The importance of employers taking responsibility for ensuring that PPE is used and maintained correctly – so that it continues to function in accordance with the proper standard – is highlighted by these statistics.
After all, even the most rigorous standards for PPE are meaningless if employers do not foster a culture of safety in which the correct use of PPE is enforced.
Safety is a joint effort involving suppliers of standards-compliant PPE, employers, and workers.
Without everyone's participation in workplace safety, tragedies happen – tragedies that could have been avoided.
Honeywell Safety Products
Ph: 1300 139 166