IT'S MAT WORLD – BY A NOSE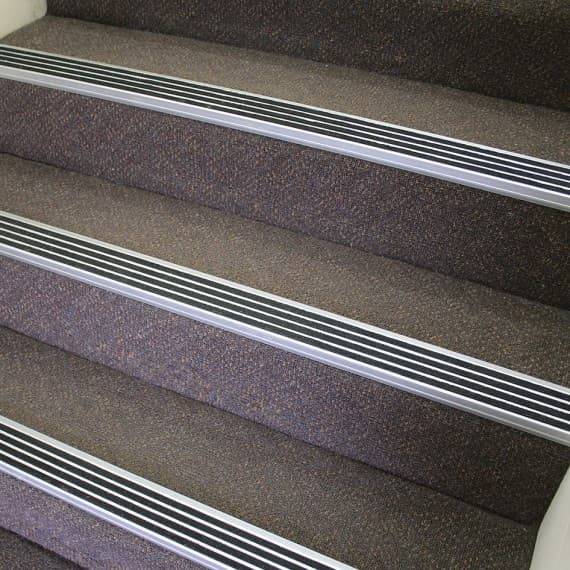 Mat World has introduced two new nosing lines to its comprehensive range of matting and safety products. 
Both the new products are aluminium stair nosings intended to help prevent slips and stumbles on stairways.
The Mat World Basic model is an aluminium extrusion, 75mm from front to back and with a 25mm aluminum right-angle return at the front to drop down over the stair riser and help hold the nosing in position. 
It has four, black 10mm carborundunm strips running the full length  of the tread to ensure good grip so that shoes do not slide off the front of the step.
The Mat World Lumin model has 35mm front to back conventional carborundum. 
Then, in front of the carborundum and up to the front edge of the aluminium extrusion, is a 15mm yellow, luminous glow-in-the-dark abrasive strip at the front of the tread.
This strip collects sufficient energy from light, whether daylight or electric, that it automatically glows as soon as lights are turned off, ensuring that steps are not missed in the dark. 
In fact, after only 10 or 15 minutes exposure to a light source, the luminous strip will continue to glow in the dark for as much as 8-10 hours.  
The Lumin model has a 30mm right-angle return at the front to drop down over the stair riser.
Both stair nosings are made to length based on the width of the stairs to be protected and can be easily fixed in place by simple screwing. Mat World will supply only or can quote for installation.
Mat World operates nationally in major capital cities, with specialist staff available for free, no-strings, no-obligation advice and help.
Contact Mat World for more information or to see a sample.
Mat World
Ph: 1300 676 807