It's curtains for harmful decibel levels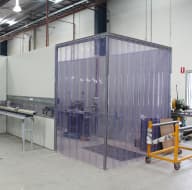 Every year noise costs Australian industry millions of dollars in employee stress and downtime.
Also, many businesses face costly legal claims and litigation for failing to comply with government legislation regarding hearing protection for workers.
Noise not only can damage hearing, it creates danger if workers are unable to communicate or hear machinery or warning signals.
It is paramount for employers to protect their workers from harmful workplace noise.
A person without hearing protectors can be safely exposed to 85dB of noise for eight hours (similar to the sound of a front-end loader).
But by increasing noise levels by a mere 3dB (85 to 88dB), it cuts that time to only four hours.
And by increasing it again by a further 3dB (eg a lawn mower), an unprotected worker is at risk of hearing damage after just two hours.
Flexshield is a leading manufacturer, supplier and installer of noise control and soundproofing products.
This includes:
Flexible acoustic curtains and machine enclosures
Acoustic walls and barriers
Attenuators
Baffle silencers
Modular acoustic panels
Flexible noise control barriers
All Flexshield products are designed to reduce or completely subdue potentially harmful noise – and to comply with Government and workplace safety laws.
High quality Flexshield products can be supplied quickly in kit-form and are easy to install.
Flexshield can design and install a customised, effective solution that will reduce or completely eliminate the offending noise.
Contact Flexshield for a free no-obligation on-site decibel consultation